George Jay Draper, 70, of Clarks Hill, Ind., died September 17, 2021 at Clinton House, Frankfort, Ind.  He was born February 23, 1951 in Lafayette, Ind. to Loyd & Helen (Woods) Draper.  He married Angelina M. Crawford on August 20, 1988 and she survives.
George was a graduate of Lafayette Jefferson High School.  He was a city bus driver in Lafayette and West Lafayette, for 20 years, retiring on April 16, 2021.  He enjoyed Bowling and shooting pool.
He is survived by his wife:  Angelina M.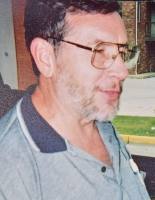 Draper of Clarks Hill, stepson:  Jamie Jackson of Clarks Hill, stepdaughter:  Ica Marie Ket of Indianapolis, brother:  Michael (Amber) Draper of Jackson, NC, 2 sisters:  Rosella (Joseph) Carter of Clark Hill and Elana (Joe) Stetler of Lafayette. He was preceded in death by a sister, Kay and a brother, Ray Draper
No services are planned. Clinton County Crematory and Goodwin Funeral Home, 200 S. Main St. Frankfort, IN 46041, are honored to care for Mr. Draper. Friends and family may leave words of comfort at www.goodwinfuneralhome.com