Kids love dinosaurs and space…and they're not making dinosaurs anymore!
The popular Indiana Family Star Party held annually at Camp Cullom is the largest star party in Indiana and one of the largest in the midwest. This event will showcase starry skies and opportunities to view the heavens using some of the largest telescopes in the state.
Nearly 100 campers are already pre-registered for the event. The public is invited to enjoy the Star Party Friday and Saturday July 29th and 30th if camping is not your thing. Day and evening general public attendees can skip the camping and just enjoy the special speakers, telescope viewing, programs and prizes for kids, free space movies, popcorn, free coffee and hot chocolate.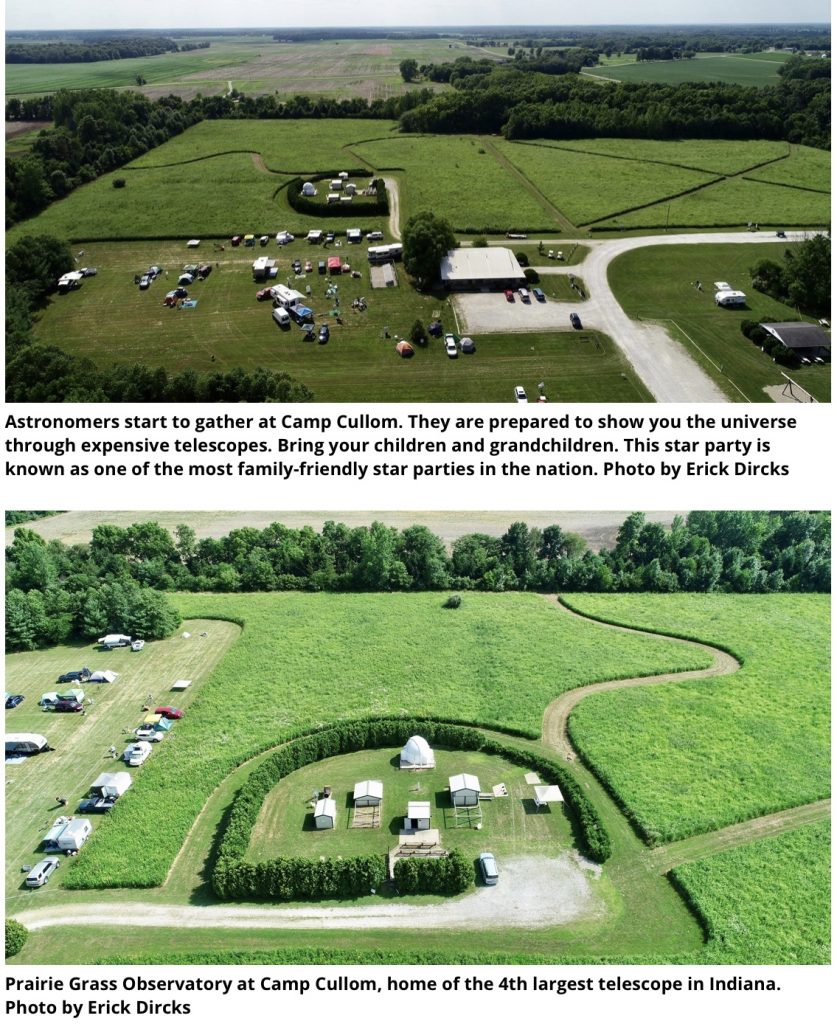 On July 29th and 30th, join us for the 19th Indiana Family Star Party! Come out to Camp Cullom (near Frankfort) and learn some constellations, see star clusters, and catch the misty glow of the Milky Way overhead at the Midwest's premier star party for families! Prairie Grass Observatory's telescopes will be available to the public for viewing the sky, and amateur astronomers from across the Midwest will also have their own telescopes set up on a large observing field, some of which will be available for public viewing, with permission from their owners of course.
We begin Friday evening with our ice cream social. Later Friday night, we will hold our popular "Sky Trekker" kids' program, as well as its extension "Sky Trek Adult" for parents who'd like to join in the fun or just anyone over 18 who'd like to become familiar with some of the summer constellations and look through telescopes. The entire family will be able to learn about the sky together! Ice cream treats and a chance to win binoculars and Lego sets are in the offing for daily attendees who complete the program. Full event campers have a chance to win an astronomical telescope and Lego sets. If it's cloudy, we will play our cloudy night game and still hold prize drawings.
New this year: On Saturday night, we will hold an informal observing session called "Kids' Corner" where kids will have a chance to look through telescopes.
In addition, on Saturday we will also offer our other favorite annual activities, including speakers, door prizes, the prairie grass walk, an astro-quiz, geocaching, Pokémon Go, and a swap meet. Every year this regional party attracts curious starry-sky lovers,nature lovers, and actual and aspiring amateur astronomers. Join us and explore the skies!
The IFSP is hosted by three regional astronomy clubs: The Wabash Valley Astronomical Society (Lafayette), the Indiana Astronomical Society (Indianapolis), and the Muncie Astronomy Club. The event will open to the public on July 29–30 at beautiful Camp Cullom, home of the Prairie Grass Observatory.
Camp Cullom is known for its dark, star-studded rural sky, affording excellent views of many celestial objects. Summer is the season of star clusters: tight groupings of stars that allow you to see over 100,000 stars at once through a single telescopic eyepiece! In addition to star clusters, many nebulae—ghostly clouds of dust in space—will be visible, as will several fun asterisms. For those patient enough and who can stay up late enough, Saturn and its rings will also appear in the sky!
PUBLIC GATE SCHEDULE:
Fri.: 4:00 p.m., gates open. 12:00 midnight, gates close.*
Sat: 10:00 a.m., gates open. 12:00 midnight, gates close.*
Note: During these times, the registration booth at the single day parking lot will be open. After arrival, visitors may stay at the star party as late as they choose, but shuttle service back to the parking lot stops at 12:00 a.m.. Camping for the full event is also available, see details below: Registration and Camping.
*Gates may close earlier if weather is cloudy or rainy.
ACTIVITIES AND EVENTS:
Friday Only:
4:00 p.m. – 7:45 p.m.: Sky Trekker/Sky Trek Adult sign-up at the Information Room in the Nature Center. Sign-up is computerized, so you will need to contact the Sky Trekker coordinator, Lisa Wieland, or one of her assistants to sign up early.
6:00 p.m. – 7:30 p.m.: Evening Swap Meet at the Picnic Shelter.
7:00 p.m.: Ice Cream Social at the Nature Center, followed by a Roundtable discussion. Great chance to ask your astronomy questions. Which telescope should I buy? What is the best way to learn more about astronomy? Where can I observe? What should I look for up there?
7:45 p.m.: Sky Trekker/Sky Trek Adult sign-up closes.
8:00 p.m.: Sky Trekker/Sky Trek Adult Launch meeting in the Nature Center. Planispheres will be handed out at this meeting.
Saturday Only:
10:30 a.m.: The Astro Quiz will be given at the Nature Center.
12:00 Noon: Items not sold at the swap meets may be entered into a silent auction at the Nature Center.
1:00 p.m.: Astronomy presentations begin at the Nature Center.
6:00 p.m.: Quiz awards and door prizes will be distributed in the Nature Center.
Friday and Saturday:
All day: Daytime solar observing at the observatory buildings.
11:30 a.m. – 12:00 Noon: Swap meet at the Picnic Shelter.
8:30 p.m.: Beginning Astronomy Workshop
10:00 p.m.: Movies will begin in the Nature Center and Kids' Corner will begin at the Galileo Gallery.
Speakers at the 2022 IFSP include:
Professor Brian Murphy (Butler University) who will present "Remote Astronomical Observations for All!",

Professor Briony Horgan (Purdue University) who will present "Roving Mars: NASA's search for Ancient Life with the Perseverance Rover", and

N

orman Dingle (BSE, Purdue & US Navy, retired) who will talk about the "James Webb

Project." S

ee the

IFSP

website for more details:

http://www.indianastars.com/starparty

.
ADMISSION:
Daily admission on July 29 & 30 is still just $5.00 per person or $15.00 for a carload of three or more people for a single day and evening. Please be prepared to pay cash at the gate or write a check. The remote location of the check-in booth prevents us from being able to accept credit cards. We apologize for the inconvenience. See Registration & Camping below for Admission fees for Full Event (July 26-31) Campers.
If you want to bring in a telescope for a single day, you can either bring it on the hay wagon or, if you arrive during daylight hours, you can drive it to the observing field, and then return your car to the "single day" parking lot before dark. But then you'll have to carry your telescope back to the parking lot when you leave (with the hay wagon available until midnight).
PARKING:
Parking, for those not purchasing a Full Event pass (see below), will be on a separate field a few hundred yards from the observing field. During evening hours, the camp's ranger will be driving a hay wagon back and forth to provide transportation between the parking area and observing field, but only until midnight. This arrangement minimizes car headlight interference on the observing field.
FULL EVENT REGISTRATION & CAMPING:
Camping on the grounds and a 3-day extension of the star party are available for those who are interested. This package includes a 3-day extension of the star party (Jul. 26–31), plus parking/camping on the observing field or one of the camp's other campsites. Camping fees are $25.00/individual or $35.00/family. Fees At-Gate and for Registration forms received after July 11 are $50.00/individual or $60.00/family. To park and/or camp on the observing field, you must purchase the full event pass.
If you plan to stay multiple days, but want to stay at a hotel at night, you will have to move your car off of the observing field before dark since driving is not permitted on the observing field after dark. If you plan to leave equipment set up on the observing field overnight, you must purchase the full event pass, even if you park in the single-day parking lot at night.
For more information, go to http://www.indianastars.com/starparty, or, if you do not have internet access, contact the Wabash Valley Astronomical Society, P.O. Box 2020, West Lafayette, IN 47996-2020 or email to [email protected]. Registration forms must be postmarked no later than July 11 to avoid the higher late registration fees.
AMENITIES:
Prepared food will be available for purchase at mealtimes starting on Friday afternoon, however, those wishing to bring their own food may do so. Please note that no campfires will be allowed near the observing field, but camp stoves are acceptable before sunset.There are charcoal grills available in most of the non-observing-field campsites.
The camp has restroom facilities with running water and showers. The shower schedule is posted in the event program.
The Nature Center, where many activities and gatherings will take place, is air-conditioned, and close to both the observing field and observatory buildings.
Movies will be shown Friday and Saturday nights in the Nature Center with free popcorn available.
RULES:
ABSOLUTELY NO alcoholic beverages are allowed on the grounds at any time.
Camp Sites: Campers may only reserve ONE camp site next to them for a friend; blocks of camp sites may not be reserved.
Walkie Talkies: Channel 11 is to be reserved for star party communications only. Attendees may use another channel for non-star-party related communications.
Generators must be located on the north side of the road to the Lodge and can only be run from noon to 8:00 p.m. At all other times they must be off.
All net proceeds from the admission fee are applied toward maintaining the Prairie Grass Observatory and Camp Cullom (Clinton County Foundation for Youth), a non-profit United Way Agency.