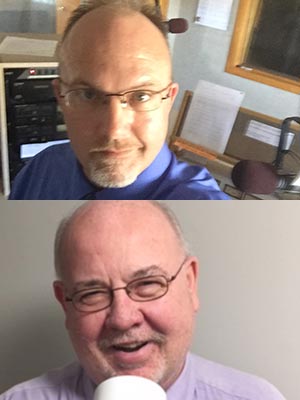 Listen to the WILO Party Line each weekday morning at 8:30, hosted by Kevin Keith and Ken Hartman.
The WILO Party Line is presented by these community-minded local businesses:
Encompass Credit Union — Community Minded Just Like You
Susan Kaspar State Farm Insurance — Like A Good Neighbor Susan is There
Ivy Tech Community College — Changing Lives
Brett Capps– Edward Jones Investor
Simple Thyme Antiques — Step Back Into A 'Simple Time'
Clinton County Daily News.com — Your Free Local Online Newspaper
Welty Custom Exteriors–Welty Works For You
Kevin's Thoughts:
There is no accountability for the Clinton family. Bill or Hillary. They just continue to get away with everything and go on about their lives. There was another mysterious death this weekend of a reporter who recently wrote a book called "On the Tarmac"
Listen to Kevin Keith's thoughts on Mondays Party Line. There is no posse chasing them!
THE FARMERS BANK
SCHULZ MARKET
ELLIS JEWELERS
HOME NATIONAL BANK
WILSON FARM MARKET
PRO-BYTE COMPUTER SALES AND SERVICE
51 WEST

BLACKHAWK WINERY
PATTON AUTOMOTIVE
---
Schedule
| DATE | TOPICS & GUESTS |
| --- | --- |
| Monday, July 19 | RILEY SPRY OF CLINTON COUNTY FAMILY YMCA |
| Tuesday, July 20 | HEALTHY COMMUNITIES OF CLINTON COUNTY COALITION |
| Wednesday, July 21 | WLFI METEOROLOGIST CHAD EVANS |
| Thursday, July 22 | UTILITY SERVICE BOARD |
| Friday, July 23 | JEFF HARDESTY OF HARDESTY LANDSCAPING |
| Monday, July 26 | RACHEL MILBURN OF FRANKFORT COMMUNITY PUBLIC LIBRARY |
| Tuesday, July 27 | CLINTON COUNTY CHAMBER OF COMMERCE EXECUTIVE DIRECTOR SHAN SHERIDAN AND FRANKFORT MAIN STREET EXECUTIVE DIRECTOR KIM STEVENS |
| Wednesday, July 28 | IU HEALTH |
| Thursday, July 29 | SUSAN GRASHAM OF COACH KIDS |
| Friday, July 30 | CLINTON COUNTY SHERIFF'S OFFICE |
| Monday, August 2 | CLINTON COUNTY FAMILY YMCA |
| Tuesday, August 3 | CLINTON COUNTY FAIR COUNCIL |
| Wednesday, August 4 | JEFF HARDESTY OF HARDESTY LANDSCAPING |
| Thursday, August 5 | PURDUE EXTENSION OFFICE |
| Friday, August 6 | CLINTON COUNTY COMMISSIONERS |
| Monday, August 9 | UNITED WAY OF CLINTON COUNTY |
| Tuesday, August 10 | FRANKFORT COMMUNITY PUBLIC LIBRARY |
| Wednesday, August 11 | OPEN DATE |
| Thursday, August 12 | FRANKFORT STREET SUPERINTENDENT JASON FORSYTHE/FRANKFORT PARKS SUPERINTENDENT BART KRANING AND PARKS ASSISTANT KIMBERLY BLACK |
| Friday, August 13 | FRANKFORT MAYOR JUDY SHEETS |
| Monday, August 16 | CLINTON COUNTY FAMILY YMCA |
| Tuesday, August 17 | HEALTHY COMMUNITIES OF CLINTON COUNTY COALITION |
| Wednesday, August 18 | WLFI METEOROLOGIST CHAD EVANS |
| Thursday, August 19 | FRANKFORT POLICE DEPARTMENT |
| Friday, August 20 | CLINTON COUNTY PROSECUTOR TONY SOMMER |
| Monday, August 23 | OPEN DATE |
| Tuesday, August 24 | CLINTON COUNTY CHAMBER OF COMMERCE EXECUTIVE DIRECTOR SHAN SHERIDAN AND FRANKFORT MAIN STREET EXECUTIVE DIRECTOR KIM STEVENS |
| Wednesday, August 25 | IU HEALTH |
| Thursday, August 26 | UTILITY SERVICE BOARD |
| Friday, August 27 | CLINTON COUNTY SHERIFF's OFFICE |
| Monday, August 30 | OPEN DATE |
| Tuesday, August 31 | OPEN DATE |
| Wednesday, September 1 | JEFF HARDESTY OF HARDESTY LANDSCAPING |
| Thursday, September 2 | PURDUE EXTENSION OFFICE |
| Friday, September 3 | CLINTON COUNTY COMMISSIONERS |
| Monday, September 6 | LABOR DAY HOLIDAY -- NO SHOW |