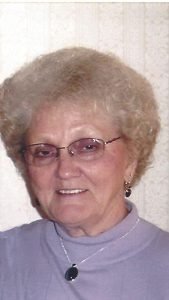 Velma C. Myers, 89, passed away on Friday, December 6, 2019, at IU Health Arnett Hospital in Lafayette.  She was born March 28, 1930, in Allen County, KY, near Scottsville, to George and Opal (Stafford) Graves.  On July 19, 1947, she married Hayden D. Tucker in Franklin, KY; he preceded her in death on February 28, 1984.  On October 13, 1996, she married Bill Myers, in Frankfort; he preceded her in death on March 24, 2016.
Velma lived most of her life in Clinton County, just south of Rossville and attended Rossville High School.  She worked as a lab technician for Federal Mogul before retiring on March 31, 1987 after 23½ years of service.  She was also employed for 10 years as a dietary aide at Milner Community Health Care Center and later as a helping hand.  She was a previous member of Church of God Prophecy in Indianapolis and had more recently been attending Pleasant Hill Presbyterian Church.  Velma enjoyed traveling, gardening, quilting, and spending time with her family.
Velma is survived by her children, Duane (Sheryleen) Tucker of TN, Kathy (Craig) Michael and Vicki Ball, both of Frankfort; her step-children, Phillip (Gayle) Myers of SC, Walt (Stacey) Myers of Delphi, Doug Myers and Karen (Carl) Shoe, both of Frankfort, Paula (Danny) Dodson of Lebanon, and Rebecca Shoe and Lisa Evans, both of Kirklin; her siblings, Jim (Wilma) Graves, of Sedalia, Harold (Donna) Graves of Rossville, Betty Ewing of Frankfort, and Anna (Bill) Brantley of Russiaville; her grandchildren, Stephanie Anthrop, Brent Michael, Josh Ball, Derek Ball, and Keri Boudreaux; her great grandchildren, Briannah and Meagan Davies, Grant, Olivia, and Sophia Michael, Jillian, Kendalyn, Amya, and Jaxyn Ball, Faith and Lexie Boudreaux and Sammie Tucker; great-great grandchildren, Harper and Haizlee; several step-grandchildren and step-great grandchildren.
Along with her husbands, Velma was preceded in death by her daughter, Patty Bluemke.
Visitation will be held on Monday, December 9, at Genda Funeral Home Rossville Chapel from 3:00 to 7:00 p.m.  Funeral services will be on Tuesday, December 10 at 10:30 a.m. at the funeral home with Pastor Donna Enersen officiating.  Burial will follow at Rossville Cemetery.   Online condolences may be directed to www.gendafuneralhome.com.