Indiana 26 from Rossville to Russiaville will be a much improved and safer drive by October 2024. Drivers will enjoy wider lanes, a 4 foot paved shoulder PLUS an additional 4 foot gravel shoulder, reconstructed water drainage system and safer relocation of high voltage power lines farther from the highway.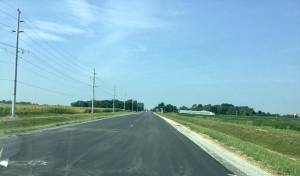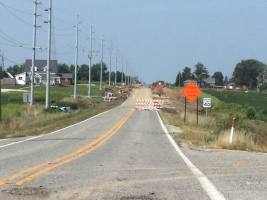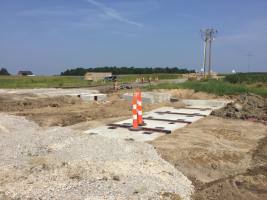 Like all good things, it will take time. This project will be completed in four phases.
Drivers are asked to be patient, follow the signs and know INDOT and contractor Rieth & Riley are working as quickly as possible to complete the extensive and needed reconstruction.
Phase 1 during 2021: Road reconstruction from Rossville to the west side of Sedalia. This will be finished by November 13th of this year, 2021. Great care has been taken by INDOT and contractor Rieth Riley to address the hydraulics or water flow during the reconstruction process.
Duke Energy has already moved the high voltage three-phase power line along 26 to metal poles connecting Rossville and the Middlefork substation. This powerline shift away from the highway will ensure safety during vehicle slide-offs or impaired driver accidents while also delivering more reliable power to a large area served by Duke Energy.
Phase 2 Spring/Summer 2022: Extensive tree trimming and tree removal will take place in an 8 mile stretch west of Middlefork. Tree trimming and tree removal will allow for the "super 2" highway requirement of wider shoulders and lanes.
Phase 3: April-October 2023: State Road 26 road reconstruction focuses on the stretch from just west of Sedalia through the 26/29 intersection at Middlefork. Roadwork in 2023 from Sedalia to Middlefork will be a total road closure from April 2023 through October 2023 except for local traffic just like the Rossville to Sedalia phase 1 going on now. Since no 26 construction will be taking place during the colder months from October to April in each year, state road 26 will be open both lanes each year November through March.
In the 26 Phase 3 project from Sedalia to Middlefork, the same attention to hydraulics, lane widening, 8 foot shoulders for each lane and powerline relocation (now complete) will apply.
Phase 4: April 2024 to October 2024: Renovation/widening on 26 from just east of Middlefork for 4.46 miles to the Clinton/Howard County line. This will finally link up with the already completed 26 renovation just east of Tri-County Veterinary Clinic Building and just east of 1000 E at the Clinton Howard County Line.
By November 2024, Lafayette and Kokomo will be connected on 26 with a "super 2" state highway with new turning lanes at the 75 and 29 intersections, improved water drainage, safer upgraded Duke Energy power line location, 12 foot lanes instead of 11 foot lanes, 8 foot shoulders on each side (four foot paved, four foot gravel).
There will not be a light at the 75/26 intersection, but lighted flashing stop signs will remain for 75.
INDOT is trying to minimize disruption for local traffic and school buses as much as possible.
Clinton County Daily News, Shine 99 and WILO will keep you posted on the progress of 26 reconstruction from Rossville to the Clinton/Howard County line.