Fourth Grade Students at Suncrest and Green Meadows combed the internet and area libraries looking for information about their favorite U.S. President. All that research and creativity ended up on posters and in written creative essays turned in to Goodwin Funeral Home.
Goodwin Funeral Home hosted judges all day today to review student essays and posters. Hours of work were on display showcasing artistic talent, creativity, careful research and pivotal moments in U.S. History.
2021 is the fourth year for Goodwin Funeral Home to host the Annual Presidents' Day Fourth grade poster and essay contest.
Several community leaders including city officials, teachers, city employees, Goodwin team members and local business owners worked hard today. They studied the essays and posters and cast votes for the winners.
WILO Radio, Clinton County Daily News and Boone County Daily News will announce the contest winners after all the votes have been tallied and winners are made known. Stay tuned. The top 3 poster and essay winners are expected to be announced by Goodwin Funeral Home on Clinton County Daily News Thursday February 25.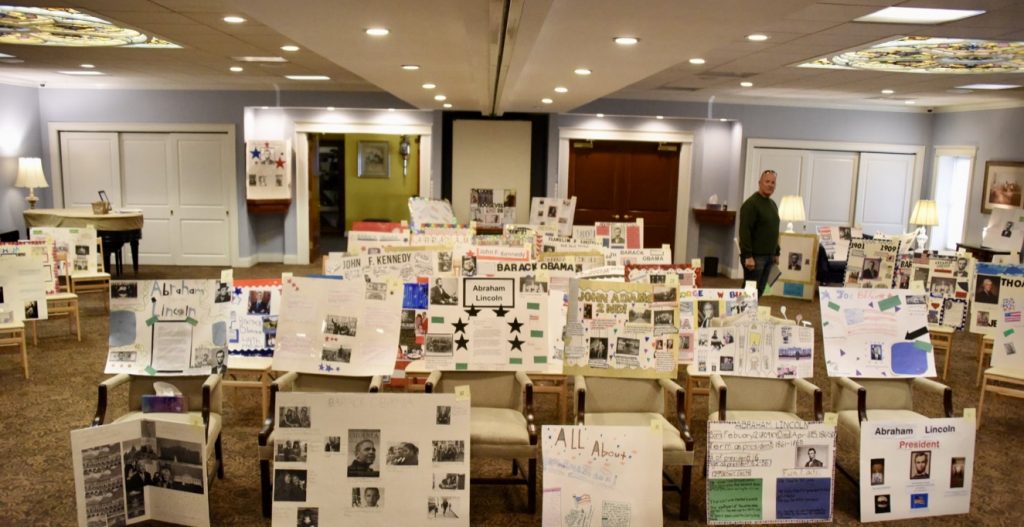 Prizes to be awarded:
1st Place Essay – Apple IPAD ($309. Value)
1st Place Poster – Apple IPAD ($309. Value)
2nd Place Essay – LEGO Capital Building ($250. Value)
2nd Place Poster – LEGO Capital Building ($250. Value)
3rd Place Essay – LEGO White House ($99. Value)
3rd Place Poster – LEGO White House ($99. Value)
It was a daunting task to select the winners among students who obviously put hours upon hours of work into their poster and essay projects.
Erick Dircks attended the judging event and captured photos. Erick put together a video and photo library for you to enjoy.
CLICK HERE for photos by Erick Dircks
Facebook Users CLICK HERE
VIDEO BELOW