Crossing School of Business and Entrepreneurship held another graduation for 19 students. Lafayette Crossing campus also graduated three students at the June 12 ceremony held at the First Church of the Nazarene in Frankfort, Indiana.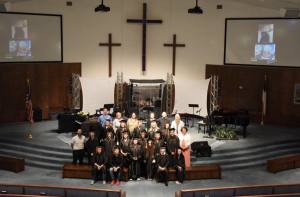 Each student had the opportunity to speak at the ceremony centered on hope, determination and hard work. The result of this opportunity to speak was impactful and student's comments can be watched in the video below.
Teacher Zach Golden started the ceremony. In his message to the students, said "This is your day. You did this. Your girlfriend didn't do this. Your grandparents didn't do this. You did it. And from now on…it's your life. Take responsibility for it. Own it. You will have failures and keep trying. Find something you love and live it."
Teachers at the Crossing include: Mr. Zach Golden, Mr. Ryan Schafer, Mrs. Angela Dickerson, Mrs. Charity Miller. Campus Administrator is Ms. Marissa Mills.
The Crossing School provides accredited High School learning for area High School students who are looking for a better fit to accommodate their desire to secure a High School diploma.
Erick Dircks was on hand to record this special time for students and family.
CLICK HERE for Erick Dirck's Pictures of Crossing Graduation
Facebook Users CLICK HERE
Frankfort Assistant Superintendent Matt Rhoda attended the graduation and has these comments:
"The climate Marissa Mills and her staff has created for students to feel safe, connected, and supported, was evident in each student's remarks today."
Mr. Rhoda continues, "Hearing each student's personal story, sometimes overwhelming words with emotions of joy, was inspiring to all in attendance. We know how critical it is for kids to have positive caring relationships and connections with adults in order to be successful in life. Three comments kids said today that sum up the graduation ceremony. The very first student to speak said he knew he was at the Crossing because he was a bad kid in school, always getting suspended. He struggled to get his words out when he was ready to thank the staff at the crossing for connecting with him and supporting him to be his personal best.
Next was a student who thanked her family, even though she pushed them away, for sticking by her as she made her way through school. Her family, like all the others, stood right in front of her as she spoke. The third student, thanked a family who took him into their home, and he shared with them, thank you for showing me what a family looks like.
The Crossing is a beacon of light for students. Marissa and her staff hold kids to high expectations by connecting with them, supporting them, and pushing them even when students don't feel like it!!"
Several area schools utilize the Crossing school to provide practical approaches to help each individual student succeed.
Mills expressed her appreciation for the hospitality and attentive staff at the First Church of the Nazarene. The next graduation at the Crossing will be in Winter.