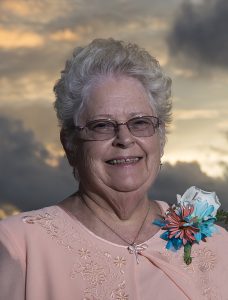 Alice "Theresa" Mudd, 69, of Frankfort, passed away at her home on Saturday, February 15, 2020.
She was born July 6, 1950, in Scottsville, KY to Louell and Lucy Jewell (Stinson) Turner.  On November 14, 1970, she married Richard Edwin "Dick" Mudd, he survives.
Theresa had worked for 35 years at Federal Mogul, retiring in May of 2016.  She was a graduate of Warren Central High School and a longtime member of St. Paul's Lutheran Church in Frankfort where she was a WELCA member. Theresa very much enjoyed her grandchildren and being a homemaker, baking, movies, sewing, knitting, crocheting, and traveling. She also enjoyed shopping and working at Kohl's and working at Jewel Simons, PR Mallory, Peter Paul, and Wilderness RV.
In addition to her husband, Theresa is survived by one son, Richard E. "Rick" (Lisa) Mudd II of Frankfort; one daughter, Jennifer E. (Jeffery) Faucett of Frankfort; one sister, Carol "Sue" (Jerry) Shanks of Gilbert, AZ; one brother, Elmer (Brenda) Turner of Indianapolis; grandchildren, Craig, Chelsea, Elzie, Reece, Tatum, Riley, Jason, Chance, Bo, Ricky III, Jazzlynn, and Jaizley; great grandchildren, Kendra, Cameron, Ayden, Kendall, and Elzie.
Visitation will be held on Wednesday, February 19, 2020 at Genda Funeral Home, Frankfort from 10 a.m. until the start of the funeral service at 2 p.m. The funeral service will start at 2 p.m. with Pastor Mike Crawford and Pastor Jim Ward officiating.  Burial will follow in Green Lawn Cemetery in Frankfort.  Memorials in Theresa's name may be made to St. Paul's Lutheran Church in Frankfort or St. Jude Children's Hospital. Online condolences may be directed to www.gendafuneralhome.com