Andrew "Andy" Reed, 54, of Frankfort, Ind., died July 3, 2023 at IU Arnett Hospital in Lafayette.  He was born on September 8, 1968 in Indianapolis to Dick and Evelyn (Hagemier) Reed.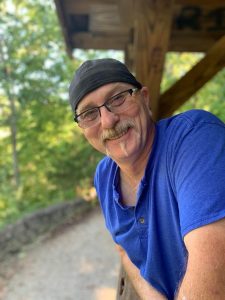 Andy was a graduate of North Central High School and worked as a Truck Driver for Frito Lay for over two decades.  He was a Scout Master for Troop 320 for three years and volunteered with Wabash Center in Lafayette where he worked with individuals living with disabilities. Andy was a lover of everything nature and he was always happiest outdoors.
Surviving are his Children: Gill Reed of Frankfort, John (Alex) Jacquet of Frankfort, Kristyna (Will) Miller of London, KY, and Andrew Jacquet of Forest; Girlfriend: Dawn Morehouse; Brother: Owen Reed of Fishers; Nieces:  Darci (Chris) Reed and Sarah Reed of West Lafayette; Step-Mother: Fran Reed of Indianapolis; and 6 Grandchildren.  He was preceded in death by his parents.
A Celebration of Andy's Life will be held at 7 p.m. on Saturday, July 29, 2023 at Goodwin Funeral Home, 200 S. Main Street, Frankfort.  Friends may visit 5 p.m. until the time of service at 7 p.m. at the funeral home.  In lieu of flowers, memorial donations may be made to in Andy's honor to Planned Parenthood or the Hoosier Abortion Fund.  Please visit goodwinfuneralhome.com, where you may leave a condolence.