Clinton County Commissioners President Jordan Brewer said Monday morning that the project on the new Annex building has now fallen behind schedule.
"There working through how to stabilize the foundation," said Brewer. "We have to be very careful of the Arni's building obviously. They're working through if they are going to do temporary shoring or permanent shoring or if there is a new mechanism that basically drills down about 30 foot."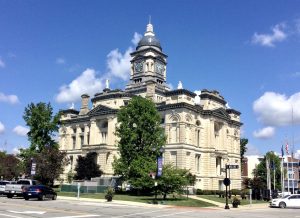 That isn't the only problem.
"We (the Commissioners) had agreed to redo all the electrical utilities behind (the building)," said Brewer. "Some of that work should be happening in the next couple of weeks and then you'll see a little bit more work on the Annex."
Brewer added these problems have put the project behind schedule.
"They are probably a few weeks behind now," said Brewer. "They ran into the issues with the shoring and tried to figure out what mechanism works best because the shoring was a cost they hadn't accounted for. That cost is going to be about $350,000."
Brewer added that cost should all be the contractor's because they is a BOT (Build, Operate, Transfer) project. He added the building that was removed is not as deep as the contractor's first thought.