The Senior Resource Center was host to it's 35th Strawberry Festival Friday.
There were a few in line when the doors opened and within a few minutes there was nearly a full house.
Along with the lunch, strawberries and ice cream there were puzzles and books in for sale to help with the fundraiser to benefit the Senior Resource center.
There were many familiar faces serving the lunch along with Bill Miller and crew.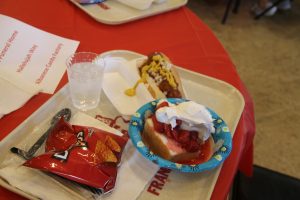 Photos by Patty Keaton Parks can be seen in links below.