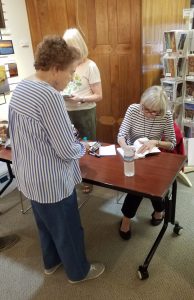 Author Janis Thornton was looking for a book or books detailing the Palm Sunday tornadoes that ran roughshod over the state of Indiana and much of the Midwest. But there was none to be found.
"I had been looking for years for a book about the Palm Sunday tornadoes and there just wasn't one except for a couple of regional books that were out of print," said Thornton. "So, I thought somebody's got to it. Why not me?"
In March of this year, Thornton finished her book, 'The 1965 Palm Sunday Tornadoes in Indiana' . It was her ninth book to be published. She was in town Tuesday night for one of the "Hoosier Storytellers" episodes that is put on by the Frankfort Community Public Library.
After about a 30-minute presentation, Thornton then reached out to the audience for their comments or experiences from that period in their lives. About six of those people elected to tell their stories. She finished the night with a book signing outside the Skanta Theatre.
"I just wanted to do it. That's all," said Thornton. "Also, my years working at the paper, I looked at all these news stories as a collection of short feature stories that all together told the whole story."
For much of the Midwest, April 11, 1965 was the first warm day of the year as much of the winter that year was late and the month of March was cold and snowy. However, the day didn't turn out as promised.
With people celebrating Palm Sunday in churches to those just wanting to get outside and enjoy the weather, most were out enjoying themselves and not listening to updates from radio and television stations.
When a front was bringing up warm weather up from the Gulf, it collided with a cold air mass aloft. Those forces joined together and caused death and destruction over a six-state area that saw 55 tornadoes, 271 deaths, including 137 in Indiana, and more than 1,700 injured. All of this was done mainly in a two-and-a-half hour time span between 6 and 9 p.m.
Indiana was on the receiving end of a lot of the damage as three distinctively different groups of tornadoes ripped through the state. One was in northern Indiana where two tornadoes, including the famous "double/twin funnel", that roared the Goshen and Elkhart areas
The second began in the Tippecanoe County town of Odell and went on a rampage damaging or destroying 90 percent of Russiaville and leveling Alto in Howard County before going on to Kokomo and Greentown causing major damage.
The third one began in east of Crawfordsville and eventually ran of steam in Indiana and was the only one of the three that did so.
Thornton was thankful to all the people she interviewed.
"I can't stress enough that people I interviewed were so willing to tell me their stories," said Thornton. "Some of them were so emotional, heartbreaking stories, horrible stores. I felt like they really wanted their stories preserved."