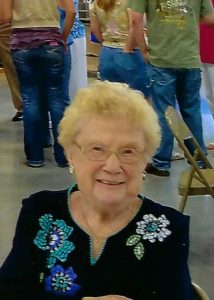 Barbara Mae Corns, 92, of Bloomington, passed away on Saturday, September 14, 2019, at Richland Bean Blossom Health Care Center.  She was born July 19, 1927, in Frankfort, to John and Myrtle (Clark) Uhl.  On June 1, 1947, Barbara married Robert G. Corns; he preceded her in death.
After graduation from Frankfort High School, Barbara had lived in Lowell for over 50 years where she was a homemaker and worked part-time as a receptionist and bookkeeper for Robert's optometry practice there.  Together, they assisted on several optometry mission trips to Honduras.  Barbara was a member of First United Methodist Church in Lowell and Order of the Eastern Star and member and volunteer for the Lowell Historical Society. She greatly enjoyed golf, ceramics, art, and other crafts in addition to traveling, playing bridge, and bowling in her younger years.  She had been a member of the Lowell Junior Women's Club and Bowling Team.
Barbara never knew a stranger and was always upbeat and positive.  She was known as the "caramel lady" for sharing her homemade caramels at Christmas time with family, friends, and local businesses.  Her family and friends feel that the many memories made at the Lake Freeman cottage are the fondest memories with her.  May her spirit live on and bring joy to all in the future.
Surviving Barbara are her children, Randall G. (Margie) Corns, of Dayton, OH, and Sandra L. (Merle) Pickel, of Bloomington; five grandchildren, Megan Ruth Alice (Justin) Wallace, of Indianapolis, Andrew Kenneth Pickel, of Bloomington, David Maneclang Corns, of Cincinnati, Robert Glenn "Bobby" Corns, of N. San Juan, CA, and Jessica Lynn (Adam) Replogle, of Indianapolis; and two great granddaughters, Audrey Mae Lynn Wallace and Mayzie Ann Wallace.  A brother, John Uhl, preceded Barbara in death.
An inurnment will be held at a later date in Bunnell Cemetery in Frankfort.  Memorials in Barbara's name may be made to IU Health Bloomington Hospice, 619 W. First St., Bloomington, IN  47403.  Arrangements are entrusted to Genda Funeral Home in Frankfort, with online condolences directed to www.gendafuneralhome.com.