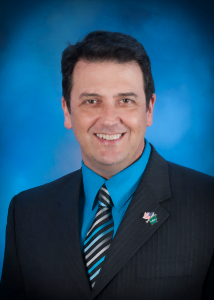 After 17 years at the helm, Dr. David Bathe will retire from his position of Chancellor of the Ivy Tech Community College Lafayette campus. During his tenure, the college has increased the footprint of the college across the region, seen record enrollments, and added degree programs that supported the economic development of the Greater Lafayette region. He will retire on Aug. 13. The College will conduct a nationwide search for the next chancellor and details will be made public in the near future.
"Of the many communities where I have served in higher education, this region of Indiana has been the most enjoyable," Dr. Bathe said. "That is due in large part to the steadfast dedication of the faculty and staff who unselfishly serve our students. We have enjoyed unique partnerships among city and county government, business, industry and education that is unmatched in the state of Indiana. It has been my honor and privilege to have served alongside my Ivy Tech colleagues and my friends in the local communities."
Dr. Bathe joined Ivy Tech Lafayette in 1999 as Vice Chancellor of Academic Affairs, and was appointed Chancellor of the Lafayette campus in 2004. Prior to joining Ivy Tech, he served in academic leadership roles at community and two-year colleges in Indiana, Florida and Illinois.
Under his leadership at Ivy Tech, Dr. Bathe was instrumental in planning the Lafayette campus and developed sites in Crawfordsville, Monticello and Frankfort that serve those communities. He is responsible for the creation of several key programs including biotechnology, chemical technology and agriculture that includes a 65-acre research farm. The campus received the largest single cash gift to the college – the Griffin Endowment – supporting health degree programs. In 2013, The Lafayette campus was named to the President's Higher Education Community Service Honor Roll.
"I am pleased to see the important impact that Ivy Tech Lafayette has had in our community," said Kathy Vernon, Secretary of the Lafayette Campus Board of Trustees. "Dr. Bathe and his leadership team have been leaders in addressing this area's needs in education, workforce development, and diversity throughout his tenure. He will leave the Lafayette campus perfectly positioned to serve this community for years to come."
Dr. Bathe earned a doctorate in history and master of science in history from Illinois State University, bachelor of science in social science from Greenville University, and an associate of science degree from Vincennes University. He serves on several boards including treasurer of the Community College Alliance for Agriculture Advancement, president of the City of Lafayette Economic Development Commission, vice president for finance of the National Council for Workforce Education, current member of Greater Lafayette Commerce, Visit Lafayette-West Lafayette, and Art Museum of Greater Lafayette Foundation boards, former chair of the Indiana Campus Compact Board, and former member of the Wabash Heartland Innovation Network, He was instrumental in developing Intersection Connection, a community partnership with the Lafayette Family YMCA, Franciscan Health, Junior Achievement, and IU Health. He is a former honorary commander of the 434th Operation Group, Grissom Air Reserve Base. Dr.  Bathe and his wife Rebecca have three children Katherine, Alex, and Christine.
About Ivy Tech
Ivy Tech Community College is Indiana's largest public postsecondary institution and the nation's largest singly accredited statewide community college system, accredited by the Higher Learning Commission. Ivy Tech has campuses throughout Indiana and also serves thousands of students annually online. It serves as the state's engine of workforce development, offering associate degree and short-term certificate programs, and trainings that align to the needs of the community. The College also offers courses and associate degree programs that seamlessly transfer to other colleges and universities in Indiana, as well as out of state, for a more affordable route to a Bachelor's degree.
Ivy Tech Community College Lafayette serves Benton, Carroll, Clinton, Fountain, Jasper, Montgomery, Newton, Tippecanoe, Warren and White counties from the main campus in Lafayette and sites in Crawfordsville, Monticello and Frankfort. Ivy Tech Lafayette offers associate degrees and certificates in the areas of business, health sciences, computing, technology, nursing, public services, education, applied science, engineering technology, and liberal arts.
For more information, visit IvyTech.edu.