Shine 99, Your "LOCALLY OWNED" radio station with Scott, Cindy, and crew were out today at some of our local business's supporting SMALL BUSINESS SATURDAY.
Scott Alan was at Big Ben Coffee working the drive through this morning.
11-2 Cindy Loveless at Jingle & Mingle in Downtown Frankfort
11-12 Shine Live at Ellis Jewlers
12-1 Shine Live at Lehnen's Furniture
1-2 Shine Live at Frankfort Nutrition
2-3 Shine Live at Center Township Of Clinton County.
SHOP SMALL & SUPPORT LOCAL.
Plenty of sunshine and nice weather left in the day to get out there Shop & Mingle.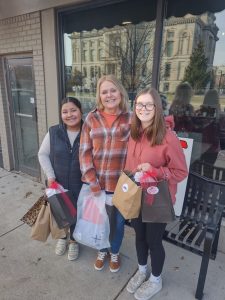 We would like to thank our sponsors
Ellis Jewelry, Frankfort Nutrition, Lehnans, and Center Township Trustee Jami Pratt.
Patty was out taking some photos at a few shops today also and done a little shopping.
Photos can be seen in links below