Billie J. Buntin, 86, of Frankfort, died April 8, 2021 at I.U. Health Arnett Hospital, Lafayette, Ind.  She was born September 8, 1934 in Tell City, Indiana to William Cluthe & Nellie Bell (Simpson) Arnold.
Billie was a 1952 graduate of F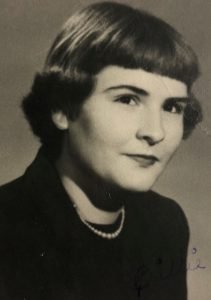 rankfort High School.  She retired from Wesley Manor after 20 years, prior to that she had worked at Jewell Simon.  Billie enjoyed collecting things and loved her cats. She loved trivia and never missed an episode of Jeopardy.  One of her greatest pleasures was getting the Final Jeopardy questions correct when all the contestants got it wrong.
Billie is survived by her sister:  Janet Woods of Westfield, niece:  Gina (husband Fernando Maldonado) Woods of Frankfort, nephew:  Jeffrey Wrench of Westfield, great nephew:  Ian (Melina) Woods of South Gate, CA, She was preceded in death by great nephew, Douglas Corey Reagan
Funeral Services:
Private family services will be held.  Burial will take place in Green Lawn Memorial Park.  Goodwin Funeral Home, 200 S. Main St., Frankfort is assisting the family with arrangements.  Please visit goodwinfuneralhome.com, where you may share a personal message with the family.