Billy Joe "Joe Bill" Donoho, 89, of Frankfort, died at 5:20 p.m. Monday, March 23, 2020 at his home.  He was born July 11, 1930 in Clinton County, Ind. to Gearold P. & Anna Bell (Wheeler) Donoho.  He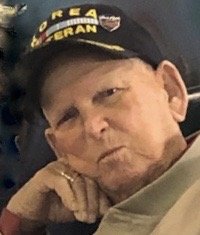 married Anna R. Donough on May 24, 1952 and she preceded him in death on August 14, 1997.  He then married Frances Evelyn (Alter) Woodruff Dunn on September 20, 2003 and she survives.
Joe Bill attended Frankfort Schools and lived most of his life in Clinton County.  A veteran of the U.S. Army, he served in Japan and Korea and received the Purple Heart.  He worked for Hinshaw Roofing for over 40 years.  He recently received his 65-year pin for being in the Roofers Union Local 119.  Joe Bill attended the First Church of the Nazarene. He was a member of the VFW, American Legion and former member of Eagles.  He enjoyed buying, selling and trading and visiting Strawtown.
He is survived by his wife, Frances Evelyn Donoho of Frankfort, 3 daughters, Cindy (Tim) Kuzmicz of Frankfort, Terri (Doug) Chambers of Kokomo and Christy Miller of Kokomo, 1 son, Billy Joe Donoho of Dayton, 2 step-daughters, Marsha McCormack of Carmel and Sheryl Fiore of Westfield, brothers, Jack (Arlene) Donoho of Frankfort, Gary (Susie) Donoho of Frankfort, Richard (Janet) Donoho of Peru, sisters, Sharon (Jim) Unger of Sedalia, Judy Morrill of Frankfort, and Connie (Larry) Hinkle of Frankfort, 11 Grandchildren and 6 Great Grandchildren.
He was preceded in death by an infant son, Randy Joe Donoho in 1957, brothers: Medford, Gilbert Max and Robert Donoho, sisters:  Justine Shrum, Norma Eaton, Janet Parks, Ruth Ann Grider, and Patsy Lou Donoho.
Funeral Services:
 Graveside services will be 2 p.m. Friday, March 27, 2020 at Bunnell Cemetery.  Memorial donations may be made to the Guardian Angel Hospice or First Church of the Nazarene.  Goodwin Funeral Home, 200 S. Main St., Frankfort is assisting the family with arrangements.  Please visit goodwinfuneralhome.com. where you may share a personal message with the family.