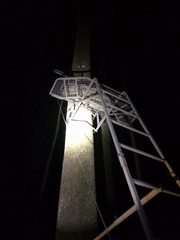 Indiana Conservation Officers are investigating a tree stand fall that occurred this evening. At approximately 5:22 p.m., Conservation Officers and other first responders were dispatched to the 800 block west on 650 N in Carroll County for a man who had fallen from a ladder stand.
Larry Snapp, 77, of Camden was attempting to climb into his ladder stand when he fell approximately 17 feet. Snapp then slid an additional 20-30 feet downhill from the base of the stand. Snapp was able to crawl back to the base of his stand before attempting to signal for help by firing his rifle in a sequence of shots. The landowner heard the shots and located Snapp about two hours later.
Snapp was transported to Franciscan Hospital in Lafayette to be treated for his injuries. Snapp sustained a broken leg in the fall. Other injuries are unknown at this time.
Snapp was not wearing a safety harness at the time of the incident. Conservation Officers want to stress the importance of wearing a harness any time you are off the ground and recommend leaving a hunting plan with a point of contact that lists where you are hunting and when you plan to return.