Clinton County Chamber of Commerce will be holding the annual Chamber Luncheon at Noon Thursday June 10 at the Silver Coin Event Manor on 39 North between Frankfort and Rossville. (3548 West County Road 500 North Frankfort, Indiana)
The annual event gives Chamber members a time to network and celebrate achievements and contributions of area businesses, industry, education institutions and government leaders.
Hoosierland TV will broadcast and archive the event. If you are unable to attend, tune to Hoosierland TV at Noon HERE.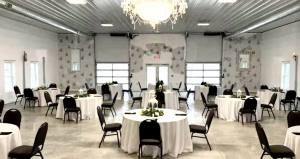 Agenda of Luncheon:
Opening with the pledge
Prayer
Shan makes brief welcome
Thank the sponsors Slabby's, Good Times Professional Audio, DR Awards
–Break for Lunch–
Welcome Fred to Help with Awards
"To win the marketplace, you must first win the workplace."
– Doug Conant
2.
New Member of the Year –
Understand to achieve anything requires faith and belief in yourself, vision, hard work, determination, and dedication. Remember all things are possible for those who believe.
3.
Volunteer of the Year –
We make a living by what we get. We make a life by what we give. – Winston Churchill
4.
Not for Profit of the Year
"The meaning of life is to find your gift. The purpose of life is to give it away." ―Pablo Picasso
Distinction in Teaching
10.
The Frankfort Christian Academy –
Among the many purposes of schooling, four stand out to us as having special moral value: to love and care, to serve, to empower and, of course, to learn.
― Andy Hargreaves and Michael Fullan
11.
Iron Block Member of the Year –
If you believe in yourself and have dedication and pride – and never quit, you'll be a winner. The price of victory is high but so are the rewards.
–Bear Bryant
12.
Agribusiness of the Year –
"My grandfather used to say that once in your life you need a doctor, a lawyer, a policeman, and a preacher. But every day, three times a day, you need a farmer."
– Brenda Schoepp
13.
CCCC Board Member of the
Year (Clinton County Chamber of Commerce)
"Those who are happiest are those who do the most for others." —Booker T. Washington
14.
Small Business of the Year –
The entrepreneurial life is one of challenge, work, dedication, perseverance, exhilaration, agony, accomplishment, failure, sacrifice, control, powerlessness… but ultimately, extraordinary satisfaction.
– David S. Rose
15.
Large Business of the Year –
"Success isn't just about what you accomplish in your life; it's about what you inspire others to do."
– Unknown
Hand over to the Times for the Citizen of the Year
Shan Closes with Brief Statement and Closing Prayer
Next Event is the ribbon cutting at Good to Go on South Jackson St. tomorrow at 11 am. They are also making a donation to the Frankfort Fire Department for $15,000 dollars. Shine 99 will broadcast LIVE from Good to Go Grand Opening.
Hoosierland TV broadcast produced by Mike Hall and made possible by our Hoosierland TV Partners:
51 West
Blackhawk Winery
Ellis Jewelers
Home National Bank
Jim's Heating and Air Conditioning, LLC
Patton Automotove
Pro-Byte Computer Sales and Service
Schulz Market
Slabby's Food & Freedom
The Farmers Bank
Wilson Farm Market
Ye Olde Spirit Shoppee