Charles C. Toney, Jr., 77, lifelong Frankfort resident, passed away Monday, September 18, 2023, surrounded by his family, at Creasy Springs Health Care in Lafayette following a brief illness.
Chuck was born May 27, 1946, to Charles Clement and Bonnie Jean (Eikenberry) Toney. He graduated from Frankfort Senior High School in 1965.
On December 26, 1966, Chuck married his high school sweetheart, Donna L. Porter. During their 56 years of marriage, they were blessed with two wonderful children, Thomas and Nikki.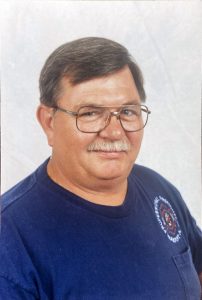 In March 1966, Chuck enlisted in the United States Air Force, serving as a Sargeant with the 390th MMS during the Vietnam War. He was honorably discharged in January 1970. Chuck was then hired by the City of Frankfort where he dedicated 32 years of service to the Frankfort Fire Department and served as Fire Chief from January 1, 2000 to December 31, 2003. Upon his retirement, Chuck and Donna sold their home and became full-time RVers, living in a 38' diesel pusher.
Surviving Chuck are his wife, Donna; son, Thomas Charles (Pamela) Toney; daughter, Nikki Lou (Terry) Fouse; twelve grandchildren, eleven great grandchildren; sisters, Norma Jean Disinger and Carolyn White; brothers, James Michael, Charles Phillip Toney, and Jerry Toney; brothers-in-law, Dick (Judy) Porter, Tim (Lucy) Porter, Pete (Judy) Porter, and Brett Porter; and sisters-in-law, Linda (James) Michael, Lori (Gary) McCarty, and Mary (Gary) McCoy.
He was preceded in death by his parents; brothers, Danny Michael and Elvis Toney; and a great grandchild, Maverick Faulkner.
Visitation will be Tuesday, September 26, 2023, from 4-8pm at Day & Genda Funeral Home in Frankfort. Funeral services Wednesday, September 27, 2023 at the funeral home with Paul Whitaker officiating. Burial will follow in Green Lawn Cemetery. Military rites will be performed by the Clinton County Honor Guard. Memorials in Chuck's name may be made to the Clinton County Humane Society or the Wounded Warriors. Messages of condolence to the family are welcomed at www.dayandgenda.com.