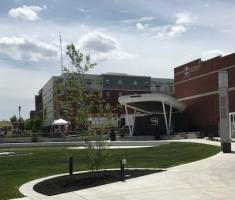 A major concern has come up regarding the financial viability of Prairie Creek Park.
"The question has come up with the RDC (Frankfort Redevelopment Commission)," said RDC Chairman Joe Palmer. "We look at it (the park) as an economic development tool. But financing is always a problem. We're looking at how we can do the entertainment stuff in the future whether it be by private sponsors or something else."
The overriding fear is that if the park is not used every weekend to its full capabilities, then the park will become vulnerable to vandalism. With the park being an economic development tool, it needs to be sold to the community so its full value can be realized.
Frankfort Mayor Judy Sheets, along with Frankfort Main Street Executive Director Kim Stevens, Frankfort Parks Assistant Kimberly Black, were part of the discussion with the RDC Wednesday night.
First of all, the city can't pay operational fees for the park by law. So far, everything has been free to the public with no fees, including entry and use fees, and that is the goal according to Palmer.
"We have talked when it was originally being built that maybe once in a while have a bigger name with a pay concert," said Palmer. "But, we're trying to avoid that. We don't want to charge the citizens whether they be from Frankfort or anywhere. We want them to enjoy that park."
The next scheduled meeting for the RDC is Thursday, July 29, at 5:30 p.m. That is the day before the Hot Dog Festival returns to downtown Frankfort following a one-year hiatus due to COVID.
Festival officials have already said that Prairie Creek Park will be used quite a bit during the July 30 and 31 event.