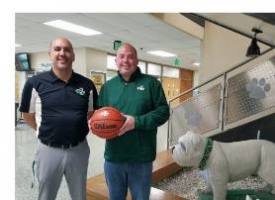 Derek Davis has been named Head Varsity Boys Basketball Coach at Clinton Central Junior/Senior High School seceding Whit Keadle.
Davis served as Varsity Boys Basketball Assistant from 2018-2021 at Hamilton Heights High School under Head Coach Chad Ballenger.  Coach Davis began his coaching career in 2015 at the Junior High level.
Davis, a Tipton, resident, will also serve in the CCHS Special Education Department and add to the program's curriculum as a Special Education Teacher.  He is a graduate of Indiana University-Purdue University of Indianapolis with a Bachelor's Degree in Criminal Justice in 2014.  His education degree came in 2019 from Western Governor's University of Indiana with a B.A. in Special Education.
Coach Davis is excited to lead the Bulldog's Boys Basketball program this winter, "I love the game of basketball and want to do my best to build a program and bring back the winning tradition to Clinton Central Boys Basketball."
Coach Davis is married to wife Miranda and has a two-year old son, Grayson.  Welcome to the Bulldog Family Coach Davis!
The information contained in this article can be attributed to Clinton Central Athletic Director Charles Roberts.