Face painting, Jewelry, Crafts, Flower Arranging, Caricature Drawings, Woodcarvings, Pottery, Paint on Canvas, Books by Local Artists…it will all be at your fingertips at Ellie's Retreat Saturday and Sunday September 18 and 19. The Art Festival and Open House hours are Saturday September 18 from 10 to 5 and Sunday September 19 from Noon to 5.
Prizes during the Art Festival include:
Weekend for 2 at Ellie's Retreat House
Free Class or Workshop
Massage from Body Harmony
Free Books from Local Authors
$20 gift certificate toward any item you choose
WILO give-aways during remote broadcast 10 to Noon Saturday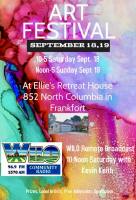 WILO's Kevin Keith will broadcast LIVE on WILO AM/FM from 10 to Noon Saturday.
Ellie's Retreat House is a place families can book for group gatherings and group overnight stays. Up to 13 people can book Ellie's Retreat House for $200.00 or less, including a kitchen, dining and living area and sleeping for up to 13. This is perfect for reunions, family housing during funerals, retreats and other day or overnight gatherings.
The Art Festival is a way to introduce the community to this gem. Ellie's Retreat House is located at 852 N. Columbia Street in Frankfort just north of the Trinity United Methodist Church.
Ellie's also has a program of classes available to the public. A full listing of available programs and classes will be available at the Art Festival and Open House.
Ellie's Retreat House is a place you and your family can "Reflect, Study, Stay, Grow"
Ellie's Retreat House is organized as a 501 C-3 Corporation, making all contributions tax deductible. The house was started by Eleanor Pershing. She was able to purchase the Trinity United Methodist parsonage which she and her husband, Don, remodeled. Eleanor shared her dream with like-minded friends, Jo Ellen Ogle, Barbara Kinsler, Jo Honig and Ayo Lincoln who composed the first Board of Directors, developed the mission statement and sought non-profit status. Ellie's Retreat House serves as a quiet place for reflection, personal and spiritual growth and a place of overnight stay for families and group meetings.
The Art Festival and Open House is intended to remove the retreat from "Best Kept Secret" status to well known community resource for families and groups to improve the quality of life for all in the community.
If you would like more information about Ellie's Retreat House or want to book the facility, call 765-650-8917 or 765-650-1177.