The 2022 Clinton County Chamber Annual Luncheon was held Thursday. New Chamber President Wanda Mitchell shares her vision for the next year…..
Mitchell says it's important for all service organizations to recruit younger talent. She says it's simple…just ask….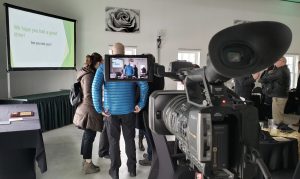 CLICK HERE to view entire Luncheon on Hoosierland TV.
Volunteers of the Year went to Tom and Janelle Crawford
Iron Block Member of the Year- Tom Jameson
Human Resources of the Year-Kathy Chynoweth
Volunteers of the Year-Tom and Janelle Crawford
Distinction of Teaching:
Rossville consolidated schools-Principal Chad Dennison
Clinton Central-Carrie Pickard
Clinton Prairie-Stephanie Kozuch
Frankfort Band Director-Jason Hutton
The Crossing-Marissa Mills
Frankfort Christian Academy-Dr. David Frye
Small Business of the Year- Slabbys Food and Freedom
Large Business of the Year-Frito-Lay
Not for Profit of the Year-United Way
Agribusiness of the Year-Performance Ag
New Member of the Year- Find Your Bliss Realty
Clinton County Chamber Board Member of the Year- Wanda Mitchell
New Award: The LeRoy Good Kindness Award-Posthumously awarded to Charles Frye Sr.
LeRoy Good who passed away recently. This will be an ongoing award.
Frankfort Times Citizen if the Year Award-Susan Rhine. 7 people were nominated this year.
Dedication Award-Posthumously awarded to Jason Wilhite
Clinton County Board President Award-New President-Wanda Mitchell