On record since 1988 Clinton Prairie has not beaten Lafayette Central Catholic until Tuesday night at Delphi in sectional play.
The Gophers went into the game with a great attitude and a winning heart. They would not be denied. The entire bench played hard and put together a great win.
Clinton Prairie will now advance to Friday night action against(12-11) Delphi. Clinton Prairie sits at (15-9).
The game will start at 6 pm and will also be on WILO Radio 96.9 and 102.7 FM Or download the W-I-L-O app.
WILO will also carry the game between Covington and Carroll at 7:30.
Top scorers for the game were Jake McGraw with 21 points, Layne Horlacher 8, Cayden Davis and Jonas Knipp each added 5.
Lafayette Central Catholic top scorer was Ben Mazur with 14 points.
For Photos of the game click on the links below
Watch for highlights and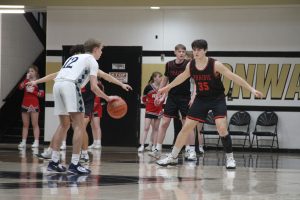 photos from Carroll over Seeger game right here on Clinton County Daily News.