Clyde E. Massengill, 36, of Frankfort, died April 12, 2019.  He was born December 6, 1982 in Frankfort to Clyde H. & Lena (Peter) Massengill.  He married Michaella Robey on August 25, 2006 an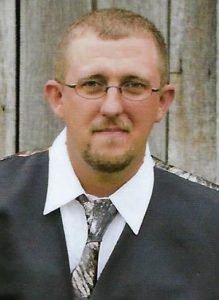 d they later divorced. 
Clyde attended Frankfort schools and was a life long Clinton County resident.  He was a tow truck driver and worked for Joey Enterprises LLC.  He also was a Red Cross volunteer, volunteer firefighter for Johnson Township and an ambulance driver for Michigantown.  Clyde was a Skywarn storm spotter, and a ham radio operator. He enjoyed fishing, hunting, being outdoors, working on cars and was a fan of University of Kentucky basketball.  He enjoyed watching his daughter play softball.
He is survived by his Mother:  Lena Massengill of Frankfort, Companion:  Tia Laflen of Frankfort, 3 Daughters:  Skiila Robey, Heather Massengill and Sophie Massengill all of Frankfort, 5 Brothers:  Jermiah Galvan of Frankfort, Jaramiah Waldron of Rossville, John "Pete" Timmons of Frankfort, Derek Simpson of Frankfort, Mike (Annette) Wamsley of Thorntown, 5 Aunts:  Wilma (Charles) Chandler of Frankfort, Sue (Bruce) Hankins of Delphi, Jane McKendrie of Lafayette, Martha (Jessie) Graves of Dayton, Naomi Peter of Mulberry.  He was preceded in death by his father and an aunt.
Funeral Services:
 Visitation will be 1-3 p.m. Thursday, April 18, 2019 at Goodwin Funeral Home, 200 S. Main St., Frankfort.  Funeral services will follow at 3 p.m. at the funeral home.  Burial will be in Kilmore Cemetery.  Memorial donations may be made to the family c/o Goodwin Funeral Home to assist with final expenses.  Please visit , where you may share a personal message with the family.