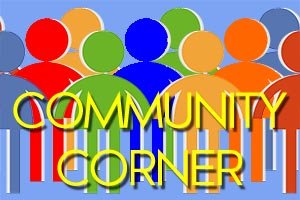 Clinton House Rehabilitation & Healthcare Center is opening up its annual holiday lights display for the Frankfort community to drive by and enjoy the spirit of the season.  The display is now open through December 31, from dusk until 9 p.m., at the facility's campus at 809 W. Freeman St. in Frankfort. It is open to the community to drive through and see the thousands of lights and holiday decorations.
Frankfort's Unified Neighborhoods joins Santa for an evening of fun on Friday, December 17, from 6-9 p.m. at Prairie Creek Park. Come and meet the characters in person and receive some goodies while you wait for photos with Santa.
Get in the Holiday Spirit with Oaklawn Acres Christmas Lights. Lights are now on and will remain on to December 29. Viewing hours are Sundays through Thursdays from 6-10 p.m., and Friday and Saturday from 6-11 p.m. Oaklawn Acres is located two miles southeast of Rossville at the corner of 300 West and 800 North.
The Friends of the Frankfort Library Annual Concert Series is on for 2022, and season tickets are now available for purchase. Season tickets are $40. Individual tickets are available for purchase at 9 a.m. Monday, December 13 and they are $12 each. For more information, contact the library at 765-654-8746.
The final drive for Leaf Collection in the City of Frankfort is Friday, December 17. Leaves, brush and grass clippings can also be brought to the Street Department's compost site at 905 Burlington Avenue, Monday through Friday, from 8 a.m. to 4 p.m. and on the first and third Saturdays of each month from 8 a.m. to noon. Leaves and clippings need to be removed from bags before being added to the compost pile.
The Clinton County Courthouse is changing the way they decide who has the best decorated Christmas door at the Courthouse. Participating offices now have their doors decorated. Votes will be cast for donating non-perishable food items and/or dog food and cat food. All items collected will be donated to local food banks and the Humane Society. Collection boxes will be placed outside each door. Each items donated counts as one vote. Voting is until December 20.
Helping to spread Christmas cheer, the Frankfort Community Public Library is hosting the "Library of Trees" now through January 3. Local organizations have decorated Christmas trees to inspire giving this holiday season. Library patrons can vote for their favorite trees by donating new hats, gloves/mittens, scarves and non-expired canned and other new, non-perishable food items at the Library's Circulation Desk. Each item donated will help determine this year's favorite tree. Voting ends December 15. For further information, call 765-654-8746.
The Carroll County Chamber of Commerce is having its Annual Membership Meeting and Awards Banquet on Tuesday, December 14, at the Wabash and Erie Canal Center, 1030 N. Washington in Delphi.
South Side Christian Church, located at 201 E. Markland Ave., Kokomo, is having a Blue Christmas Service at 4 p.m. on Sunday, December 19. If you are struggling with grief, sadness or loneliness, the Blue Christmas Service is for you. Come join us as we pause to remember loved ones who are not able to be with us, and to acknowledge the grief caused by their absence during this season of joy.
Rossville Presbyterian Church will be the site for Jingle Jam with the piano man Ryan Rollins at 7 p.m. Wednesday, December 22. Come and enjoy the sounds of the season. Cost is a free will donation.
Deer Creek Presbyterian Church, located at 4450 North State Road 29 in Camden, invites you to Christmas Dinner on Saturday, December 25, from 11 a.m. to 1 p.m. Menu includes turkey breast, dressing, mashed potatoes, gravy, green beans, noodles, roll, dessert and drink. There is no charge from this meal. Come as you are, by yourself, bring a friend, a neighbor or bring your family, but come. Please, don't spend Christmas alone, Come join them for Christmas dinner. For more information, call 574-859-3671.
The American Red Cross is holding a pair of blood drives in Frankfort on Thursday, December 20. Red Cross will be at IU Health, 1204 South Jackson Street from 7 a.m. to 1 p.m. and at First Evangelical Presbyterian Church, 352 West Clinton Street from 11 a.m. to 5 p.m.. Donors are urged to schedule an appointment now by using the Red Cross Blood Donor App, visiting RedCrossBlood.org or calling 1-800-RED CROSS (1-800-733-2767).