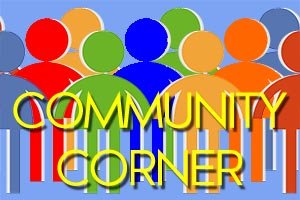 Suncrest PTO will be having its annual Dawg Jog Fundraiser beginning at 9 a.m. on Friday, September 28. Eagles will have 35 minutes to complete as many laps as possible around the school's walking track. Every child who raises at least $10 will be invited to lunch with the principal and special dessert. This year's goal is $6,000
The Frankfort Community Public Library invites everyone to another adventure as they bring another Hoosier Storyteller to the Skanta Theatre stage. Frankfort Mayor Chris McBarnes will speak at 1 p.m. on Saturday, September 29. Come listen to him talk about his childhood and growing up as a teenager. Learn about what made him choose his career path and much more.
The Paul Philippe Resource Center has announced its schedule of events for the remainder of the year: Wednesday, October 10 — Antique Fan Museum — lunch OYO; Thursday, October 18 — Last Movie 'Wonder', lunch — OYO; Tuesday, October 23 — Stookeys in Thorntown, OYO, leave 10:30 a.m.; Friday, October 26 — Pitch in — Open Pot Luck — Dress up for Halloween; Friday, November 16 — Amish Tacos, leave at 4 p.m., OYO; Thursday, November 23 & Friday, November 24 — Closed; Tuesday, November 27 — Bus to TPA Park for Soup/Lights, OYO; Thursday, November 29 — Bus to TPA Park for Soup/Light, OYO; Friday, December 7 — Living Nativity, Lafayette, leave 5:45 p.m.; Friday, December 14 — Christmas Pitch-In Ham Lunch. For more information, call 659-4060.
The Howard County Emergency Management Agency is hosting an American Heart Association Heart Saver CPR Class on Tuesday, October 2, from 1-4 p.m. at the Howard County EMA Complex, 627 S. Berkley Road, Kokomo. The class is open to the public. Cost is $20 (cash only) to cover materials. To register, call the Howard County Emergency Management Office at 765-456-2242.
Ron Darrah will be giving a genealogy workshop for beginners entitled 'They Did What?' at the Frankfort Community Public Library on Tuesday, October 2, at 6 p.m. Cost of the class is $2 and registration is required. To register, call 654-8746, visit myfcpl.org/calendar or stop by the library.
The American Red Cross are holding two blood drives in Frankfort in early October — Thursday, October 4 — First Evangelical Presbyterian Church, 352 W. Clinton Street, 11 a.m. to 5 p.m.; and Friday, October 5 — IU Health Frankfort, 1300 S. Jackson Street, 1-5 p.m. Appointments can be made by using the Blood Donor App, visiting RedCrossBlood.org or calling 1-800-RED CROSS (1-800-733-2767).
The Clinton County Youth Theatre and the Friends of the Frankfort Public Library announce audition opportunities for the 2018 Winter Play, 'Charlie & The Chocolate Factory' based on the book by Roald Dahl and dramatized by Richard R. George. Auditions for the production will be held at the library on Saturday, October 6 from noon to 5 p.m. as well as Monday, October 8, and Thursday, October 11, from 5-8 p.m. Tryouts are open to youths age 8-18 and audition packets are available at the FCPL Teen Desk.
The following events are coming up at the Delphi Opera House: Saturday, October 6 — Comedian Costaki Economopoulos, 7:30 p.m.; Saturday, October 13 — Scott Greeson and Trouble with Monday, 7:30 p.m. Tickets and details: www.delphioperahouse.org or call 765-564-4300.
The Frankfort Community Public Library is holding a Halloween Costume Swap in room 219 on Wednesday, October 3, from 4:30-7:30 p.m. All ages are welcome to attend and participate. The intent of the costume swap is to reuse gently-worn costumes you no longer need or that no longer fit and find a new costume from someone else. For more information, call 654-8746.
The Galveston United Methodist Church, 515 S. Maple St., Galveston, is hosting a Chicken Noodle Dinner on Saturday, October 6, from 5-7 p.m. Meal includes chicken and noodles, mashed potatoes, green beans, applesauce, pie and beverage. Tickets are $10 for adults, children 3-12 are $5 and children 2-and-under are free. Carry outs are available. For more information, call 574-699-7642.
The Clinton Prairie Class of 1974 will be holding a reunion on Saturday, October 6, at The Trails in Lafayette. Doors open at 5 p.m., dinner at 6 p.m. Cost is $30 a person. Mail a check to Lynnette Stewart Griffis @ 12336 W. Crest Dr., Monticello, IN. 47960. Questions or information on missing classmates; call or text Lynnette @ 765-414-4724 or Teri Wampler Clow @ 850-228-5945.
The Feast of the Hunters Moon will be held Saturday, October 6, and Sunday, October 7, at Fort Ouiatenon in West Lafayette, from 9 a.m. to 4 p.m. each day. Visitors will savor the food, customs, peoples, transportation, music and commerce of 18th century life on the grounds of the oldest European settlement in Indiana. This event is presented by the Tippecanoe County Historical Association.
Goodwin Funeral Home is having the 'Goodwin Pumpkin Giveaway' on Saturday, October 13, from 10 a.m. to noon. Bring the family out for a free pumpkin. A pumpkin will be given to any child accompanied by an adult, while supplies last. For more information, call 654-5533.
The Colfax Historical Society Presents the first Hickory Harvest Festival scheduled for Saturday, October 13, from 10 a.m. to 4 p.m. at the Colfax-Perry Township Public Library Grounds in Colfax. There will be Artisan vendors, food vendors, live bluegrass music, demonstrations by Tippecanoe Power and Steam Association, Pioneer Games for kids and a historical hayride through Colfax.
Indiana Ghost Doctors is sponsoring a Car, Bike & Truck Show plus a Kids Car Show (Push, Pull or Drag) at Parkview Home, 1501 Burlington Avenue, on Sunday, October 21. Registration begins at 9 a.m. and judging will be at 2 p.m. For more information, contact Randy West at 606-307-4657 or Bill Labeau at 574-967-4656. There will also be a Salvation Army drop off for small items. Please, no furniture at this site.
The Clinton County Civic Theatre will be holding its first show of their 30th season on October 25-28 in the Skanta Theatre at the Frankfort Community Public Library. The show will be 'The Farndale Avenue Housing Estate Townswomen's Guild Dramatic Society Murder Mystery'. For more information, call 654-8746.
Howard County Extension Homemakers are now taking orders for apple dumplings. If you have ever had one, you know how fantastic they are. If you have never had one, you are missing out. Get your order in before October 27 by calling 765-456-2313. They are $3 each or 6 for $17. Low sugar dumplings are available.
The Clinton County Fairgrounds Winter Storage Program is scheduled for Saturday, November 3 beginning at 8 a.m. Reservation are not accepted as entry is on a first come-first served basis. The charge is $10 for each foot in length for each item stored. The date for owners to retrieve their equipment will be Saturday, March 23, 2019, at 8 a.m. For more information, call 659-6306.
Chapel Hill Christian Church, 2600 W. Alto Road, Kokomo, will be having a patriotic event honoring our Veterans, with  a chili dinner at 5 p.m., followed by a Flags of Freedom program at 6 p.m. All active military and military veterans welcome. For more information, call 765-453-7388.
Events going on in Frankfort, Clinton County and North Central Indiana during 2018: September 28-30 — Festival of the Turning Leaves in Thorntown; October 6 — Moonlight Madness in Flora; October 6 — The Sunshine Festival in Lebanon; October 6-7 — Feast of the Hunters' Moon in West Lafayette; October 13 — Frankfort Oktoberfest in downtown Frankfort; October 20, 27 and 31 — Haunted Adams Mill in Cutler; November 23 — Light Up Logansport Parade; November 23 – December 26 — Christmas in the Park at Spencer Park in Logansport. November 24 – December 23 — Zionsville Christmas in the Village; November 24 – December 30 — Christmas at the Seiberling in Kokomo; December 1-24 — Frankfort Celebration of Lights at TPA Park; December 1-2 — Purdue Christmas Show; December 7 — Kokomo First Friday Holiday Celebration & Downtown Lighting; December 31 — Kokomo New Year's Eve Celebration.