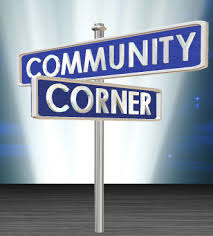 The public is invited to donate school supplies for Clinton County schools at Stuff the Bus on Wednesday, July 31, from 5-7 p.m. in the Frankfort Walmart Parking Lot. Each school (Frankfort, The Crossing, Clinton Central, Clinton Prairie and Rossville) will provide a school bus that evening for everyone to fill with popular and needed school supplies. There will be live reports on Shine 99 during the event.
IU Health Frankfort Hospital is hosting a Clinton County Immunization Clinic from 1-7 p.m. on Wednesday, July 24 in Room 3054. Hospital will accept walk-ins for immunizations needed for school. Call 765-656-3350 for questions.
The Clinton Masonic Lodge Fish Fry will be held Saturday, July 27, from 3-7 p.m. at the Masonic Lodge located at 201 S. Main St., Frankfort. This is an all-you-can-eat event open to the public. Menu includes fish, fries, slaw or applesauce, bread and butter, coffee, punch, lemonade and water. Cost is $10 for adult, $5 for ages 5-10; and those 5-and-under are free. Carry outs will be available and the facility is handicapped accessible.
The following events are coming up at the Delphi Opera House: July 27 — Ouibache Music Festival, 7:30 p.m. August 24 — Comedian Mike Armstrong. Tickets and details: www.delphioperahouse.org or call 765-564-4300.
The Greentown Public Libraries are closed for their annual cleaning through Saturday, July 27. They will reopen with regular hours on Monday, July 29.
The Witham Health Services Volunteer Organization's Linen Sale will be held on Wednesday, July 24, from 7 a.m. to 3 p.m. at the main entrance of Witham Hospital. Proceeds will benefit their Boone County High School Scholarship Fund. The linens are very high quality and everything is reasonably priced. The sheet sets even come with extra pillow cases. Colors last after multiple washings. Also, there are quilt/comforter sets, Sherpa throws/blankets and plush blankets available.
COACH Kids will have two special events going on at the Hot Dog Festival on Saturday, July 27. There will be a biscuits and gravy breakfast with fruit cup and drink fro $5 from 8-10 a.m. at the Main Food Tent. Also that day, there will be Cornhole Tournament in front of the 51 West Event Center on Clinton Street. Registration is from 8-8:45 a.m. and the bracket reveal is at 9 a.m. Play starts at 9:30 a.m. Cost is $20 per pair and this is for amateurs only. Call 654-8812 for more information.
Published contemporary romance novelist Laurie Sparks-Sellers will have a book signing at Frankie's Cafe & Coffee Shop during the Hot Dog Festival on Saturday, July 27, from 2-4 p.m. She is the author of 'Leather Horizons', 'Private Pursuits', and 'The Mink Wrap in the Attic' and writes under the pen name of Laverty Sparks. Individual autographed paperbacks are priced at $10 each and the author requests cash only. In addition, the first 10 customers will receive a gift bag. Originally from Frankfort, Sparks-Sellers now resides in Lafayette.
Colfax United Methodist Church is having its 30th Annual Chicken & Noodle Dinner from 4-7 p.m. on Saturday, August 3, at the Colfax United Methodist Church. Menu includes chicken & noodles, mashed potatoes, plus choice of two of the following (green beans, applesauce, sliced tomatoes, slaw). Meal also includes roll and butter, dessert and drink. Cost is $8.50 for adults; $4 for children ages 3-12 and children under 3 are free. Dine in or carry out available. The dinner will be held during Colfax Ole Hickory Days.
The 4th Annual Ridin' 4 Recovery, a benefit ride with proceeds benefiting The Way Out Sober Living Home of Frankfort will be held on Saturday, August 3, at the Perry Township Fire Department in Colfax. Registration time is 9:30 a.m. and kickstands go up at 11 a.m. Pre-register by August 1 for the chance to get a free T-shirt. The Way Out is a non-profit organization helping women in recovery. Cost is $20/bike and $10/passenger. The finish will be at the Colfax Park and line up for parade which will follow at 2 p.m. For more information, contact Amy Evans at aburrisin@yahoo.com o 765-242-7126.
The Frankfort Police Department is hosting their annual National Night Out on Tuesday, August 6, from 6-8 p.m. in TPA Park near the bird aviary. All area law enforcement agencies have been invited to participate with the Department of Natural Resources, Indiana State Police, Clinton County Sheriff's Ofice and Mulberry Town Marshal. Also involved will be Center Township, Goodwin Funeral Home, Frankfort Community Public Library and the Clinton County Family YMCA.
Find Your Brave, an event for boys in sixth through 12th grade, will be held on Sunday, August 18, from 4-8 p.m. at St. Matthew United Methodist Church, 1951 Wilshire Drive, Frankfort. This event is an evening of worship and encouragement. Topics include mental health, drugs and self-defense. There will also be door prizes and a dinner. Register online at stmatthewfrankfort.com/findyourbrave, by calling 765-654-5575, or by stopping by St. Matthew, First Christian or First Baptist.
The Frankfort Community Public Library Adult Services Department is hosting a one-shot Dungeons and Dragons sessions in August. The event will be held in the Lower Level Meeting Room on Saturday, August 24, from 10 a.m. to 5 p.m. The first two hours will be dedicated to character creation. Ages 15 and up are welcome to join this free event. The group is limited to 6-8 players and registration is required. You can register online at myfcpl.org/calendar, by phone, or in-person at the library. For more information, call 765-654-8746 and ask for Daniel or Kate.
The annual Clinton County Chamber of Commerce Golf Outing 'Around The World in 18 Holes' will be held Thursday, September 26, at the Frankfort Commons Golf Course. Registration begins at 7:30 a.m. with a 8 a.m. shotgun start. Lunch and awards will be at noon. For more information, contact Jason at 765-654-5507 or jason@ccinchamber.org.
The following is a schedule of Special Events in Frankfort and Clinton County: July 26-27 — Frankfort Hot Dog Festival; July 31 — Stuff the Bus at Frankfort Walmart, 5-7 p.m.; August 2-3 — Ole Hickory Days in Colfax; August 6 — National Night Out at TPA Park, 6-8 p.m. August 10 — Car Show & Flea Market in Kirklin, 8 a.m. to 4 p.m.; August 23-24 — Rossville Summer's End Festival; September 14 — Block Party & Flea Market in Kirklin, 8 a.m. to 4 p.m.; September 25 — Kaspar Media Senior Fair, 9 a.m. to 2 p.m.; October 5 — Latino Heritage Festival at Prairie Creek Park; October 12 — Frankfort Oktoberfest; October 26 — Trick or Treating with Downtown Merchants in Kirklin, 4-6 p.m.; November 15 — Ladies Night Out in Kirklin, 5-9 p.m.; November 22-January 1 — Christmas Celebration of Lights, Frankfort; December 7 — Christmas in Kirklin, 10 a.m. to 4 p.m.
The following is a schedule of Special Events in and around Clinton County: July 20-26 — Boone County Fair in Lebanon; July 20-27 — Tippecanoe County Fair in Lafayette; August 10 — Taste of Cass County in Logansport; August 24 — Indiana Bacon Festival of Carroll County in Delphi; September 5-7 — Tipton County Pork Festival in Tipton; September 13-14 — Back to the Fifties Festival in Lebanon; September 20-22 — Burlington Fall Festival in Burlington; September 21 — Depot Day Festival in Flora; September 27-29 — Festival of the Turning Leaves in Thorntown; December 6 — Kokomo Home for the Holidays Celebration; December 7 — Greater Lafayette Christmas Parade.