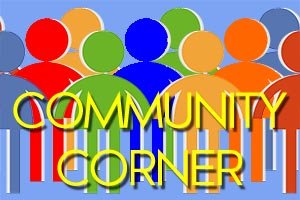 The Frankfort Police Department is hosting their annual National Night Out on Tuesday, August 6, from 6-8 p.m. in TPA Park near the bird aviary. All area law enforcement agencies have been invited to participate with the Department of Natural Resources, Indiana State Police, Clinton County Sheriff's Office and Mulberry Town Marshal. Also involved will be Center Township, Goodwin Funeral Home, Frankfort Community Public Library and the Clinton County Family YMCA.
Heidi Harner is showcasing her abstract oils and mixed media paintings in the Anna & Harlan Hubbard Gallery on the second floor of the Frankfort Community Public Library during the month of August. .This exhibit, Inspired by Nature: Plant Based Abstracts by Heidi Harner, is free and open to the public. A reception for the artist will be held on Saturday, August 10, from 1-3 p.m. The exhibit will be on display through August 30. Artwork is for sale and a portion of each sale may be tax deductible. For more information, call 654-8746.
No Small Matter will show in Skanta Theatre at the Frankfort Community Public Library on Monday, August 12, at 6:30 p.m. This is an eye-opening documentary highlighting the importance of early childhood education….spoiler it is much more of a factor than we ever thought! No Small Matter will redefine the public understanding of what's going on in children's brains from birth to five — and push their needs to the top of our social and political agenda.
St. Elizabeth Healthcare Center, 701 Armory Road, Delphi, is having an American Red Cross Blood Drive on Wednesday, August 14, from 10 a.m. to 2 p.m. Individuals can schedule an appointment to give now by using the Red Cross Blood Donor App, visiting RedCrossBlood.org or calling 1-800-RED CROSS (1-800-733-2767).
The Christian Cavaliers will be in concert on Saturday, August 17, at 6 p.m. at East Side Christian Church, 1758 E. Walnut St., Frankfort.
Find Your Brave, an event for boys in sixth through 12th grade, will be held on Sunday, August 18, from 4-8 p.m. at St. Matthew United Methodist Church, 1951 Wilshire Drive, Frankfort. This event is an evening of worship and encouragement. Topics include mental health, drugs and self-defense. There will also be door prizes and a dinner. Register online at stmatthewfrankfort.com/findyourbrave, by calling 765-654-5575, or by stopping by St. Matthew, First Christian or First Baptist.
The following events are coming up at the Delphi Opera House: August 24 — Comedian Mike Armstrong. Tickets and details: www.delphioperahouse.org or call 765-564-4300.
The Frankfort Community Public Library Adult Services Department is hosting a one-shot Dungeons and Dragons sessions in August. The event will be held in the Lower Level Meeting Room on Saturday, August 24, from 10 a.m. to 5 p.m. The first two hours will be dedicated to character creation. Ages 15 and up are welcome to join this free event. The group is limited to 6-8 players and registration is required. You can register online at myfcpl.org/calendar, by phone, or in-person at the library. For more information, call 765-654-8746 and ask for Daniel or Kate.
The Third Annual Frankfort City Golf Tournament, sponsored by Kaspar Media, will be held Saturday, August 24, and Sunday, August 25 at the Frankfort Commons Golf Course. This is an individual stroke play tournament and tee times begin at 8 a.m. Cost is $50 per player and $15 per junior (under 17). Divisions are open, women, junior (under 17) and senior (60-plus).
MarriageRestored is a weekend for couples who are in crisis or have been in crisis. It is not a marriage clinic, counseling session or sensitivity group, but rather an opportunity for couples to examine their relationship using a proven communication technique. The next weekend is September 20-22 in Indianapolis. For more information, contact Gary and Juanita Thayer at 877-844-2262 or office@marriagerestored.com.
The 2nd Battalion 293rd Infantry Reunion will be Saturday, September 21, at the Logansport American Legion, Post 60 on Burlington Avenue. Meal will be served at 6 p.m. Please send $15 for a single ticket or $30 for a couple to William A. Mohler, 919 Daisy Street, Logansport IN 46946. Checks must be received by August 19, as this is how the meals will be ordered. Tickets may also be purchased at the door. Questions may be directed to Bill Mohler 574-721-6028, Barney Hyder 574-721-5820 or John Wilson 574-240-8612.
The annual Clinton County Chamber of Commerce Golf Outing 'Around The World in 18 Holes' will be held Thursday, September 26, at the Frankfort Commons Golf Course. Registration begins at 7:30 a.m. with a 8 a.m. shotgun start. Lunch and awards will be at noon. For more information, contact Jason at 765-654-5507 or jason@ccinchamber.org.
The following is a schedule of Special Events in Frankfort and Clinton County: August 6 — National Night Out at TPA Park, 6-8 p.m. August 10 — Car Show & Flea Market in Kirklin, 8 a.m. to 4 p.m.; August 23-24 — Rossville Summer's End Festival; September 14 — Block Party & Flea Market in Kirklin, 8 a.m. to 4 p.m.; September 25 — Kaspar Media Senior Fair, 9 a.m. to 2 p.m.; October 5 — Frankfort Hispanic Heritage Festival at Prairie Creek Park, 4-10 p.m.; October 12 — Frankfort Oktoberfest; October 26 — Trick or Treating with Downtown Merchants in Kirklin, 4-6 p.m.; November 15 — Ladies Night Out in Kirklin, 5-9 p.m.; November 22-January 1 — Christmas Celebration of Lights, Frankfort; December 7 — Christmas in Kirklin, 10 a.m. to 4 p.m.
The following is a schedule of Special Events in and around Clinton County: August 10 — Taste of Cass County in Logansport; August 24 — Indiana Bacon Festival of Carroll County in Delphi; September 5-7 — Tipton County Pork Festival in Tipton; September 13-14 — Back to the Fifties Festival in Lebanon; September 20-22 — Burlington Fall Festival in Burlington; September 21 — Depot Day Festival in Flora; September 27-29 — Festival of the Turning Leaves in Thorntown; October 5-6 — Feast of the Hunters' Moon Festival in West Lafayette; December 6 — Kokomo Home for the Holidays Celebration; December 7 — Greater Lafayette Christmas Parade.