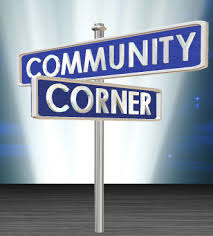 NOTE: As far as we know, the following community events are still happening as scheduled. We would advise calling before you venture out to make sure these events are still on.
Healthy Communities of Clinton Count Coalition is getting ready for their next blood drive. Drives have been cancelled because of the COVID-19 situation. Healthy Communities has expanded their blood drive and now have more than 80 on the schedule. The next blood drive (with new precautions in place) is scheduled for Friday, April 3, at Faith Family Church, from 7 a.m. to 1 p.m.
The Friends of the Frankfort Library are proud to present their 40th Annual Fine Art Exhibition & Sale November 13-15. The artists selected for the show are by invitation only from the Frankfort Community Public Library and are based on artist applications submitted for jurying. If you wish to be considered for the 2020 show, send your information to Susie Blackmore, Marketing & Art Manager, at sblackmore@myfcpl.org by April 30. For more information, call 765-654-8746.
The Frankfort Marine Corps League sponsors a scholarship program for all four schools in Clinton County.They give a $500 scholarship to all four schools in Clinton County. The senior has to come from a Marine or Navy Corpsman family. For more information, contact LeRoy Zook at 765-659-2384.
The Stacy Baugh Legacy Leadership has been created for her passion of the outdoors, science and for monarch butterflies projects and program for local youth, the environment and her community. The 2,500 scholarship will be awarded to a student who has been accepted at a post-secondary institution. Applications may be picked up and turned in to the Frankfort High School Student Service Department. Applications are due no later than April 1.
The Frankfort Lions Club is sponsoring two $500 scholarships for students graduating from Frankfort High School and planning on attending a college, university or technical school the following fall. The evaluation of prospective scholarship candidates will include not only scholastic achievements but also evidence of community involvement and service during their school years. Candidates will be required to submit a single page essay. Applications and further details can be obtained from the guidance department and returned to the same department by April 10.
An Easter Egg Hunt will be held at Kirklin Town Park on Saturday, April 11, starting at 10 a.m. This is a free family event for those 0-12 years old. There will be loads of prizes. Event is sponsored by Kirklin 4-H  Club and Kirklin Fire Department.
The Clinton County Extension Homemakers are accepting applications for a $500 Career Advancement Scholarship. Applications are open to any current Clinton County graduating senior or adult furthering his/her education. Preference will be given to applicants majoring in Health and Human Services and/or related programs. Completed applications are to be returned to the Purdue Clinton County Extension Office, 1111 S Jackson St, Frankfort, before 4 p.m. on April 15. Application packets are available in all county high school Counseling & Guidance Offices, The Purdue Clinton County Extension Office and online at http://purdue.edu/extension/clinton.
Clinton Central Elementary School has announced its Early Kindergarten Round-Up to be held Wednesday, April 8, from 11 a.m. to 2 p.m. and 3:30-6:30 p.m. This is open to students who will be four by October 1, 2020. There is also a $10 fee per day and a monthly fee schedule will be provided during Round-Up. Clinton Central Elementary is also having a Kindergarten Round-Up on Thursday, April 9, from 11 a.m. to 2 p.m. and 3:30-6:30 p.m. This is open to all students who will be five by October 1, 2020. Call 765-249-2244 to schedule an appointment for either one of the Round-Ups.
Walk-In Clinics for the 2020-2021 Clinton County Immunization Clinic for children with no insurance or Medicaid are as follows: April 29, June 24 and August 26 from 1-7 p.m. on the Third Floor of IU Hospital. For children with private insurance, the clinics will be held on May 27, July 29 and September 30 at the Clinton County Health Department, 400 E. Clinton St., from 1-7 p.m.
The Hornet Hustle 5K Run/Walk will be held Friday, August 21, at 6 p.m. at the Rosville Town Park. This is a chip timed race that includes a T-shirt, awards and a paved out and back course. The race is during the annual Summer's End Festival which is held Thursday and Friday evenings and all-day Saturday. Pre-registration cost is $20 by July 1, $25 July 1 to August 20 and $30 race day registration which is cash only.
The following is a schedule of Special Events in and around Frankfort, Clinton County: April 21 — Points of Light Volunteer Fair at 51 West Event Center, 4-7 p.m.; May 29-31 — Russiaville Summer Fest; June 20 — Flora Hog Jog; July 2-4 — Haynes Apperson Festival, Foster Park in Kokomo; July 4 — Fourth of July Celebration; July 4 — Canal Days in Delphi; July 11-18, 2020 — Clinton County 4-H Fair; July 13-18 — Howard County Fair in Greentown; July 24-25 — Hot Dog Festival in downtown Frankfort; August 7-23 — Indiana State Fair; August 21-22 — Summer's End Festival in Rossville; August 29 — Indiana Bacon Festival in Delphi; September 10-12 — Tipton County Pork Festival in Tipton; September 12 — Depot Day in Flora; September 18-19 — Back to the Fifties Festival in Thorntown; September 18-20 — Burlington Fall Festival; September 23 — WILO Senior Fair, 9 a.m. to 2 p.m.; September 25-27 — Festival of the Turning Leaves in Thorntown; October 10 — Frankfort Oktoberfest at Veterans Park; December 5-31 — Celebration of Lights at TPA Park.