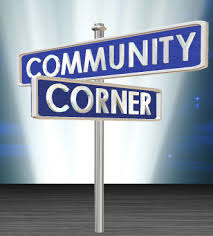 The Food Finders Mobile Food Pantry will be held at the First Christian Church of Frankfort, 58 S. Columbia St., Frankfort, at 11 a.m. on Wednesday, September 30. This will be a drive-through distribution. All clients are asked to remain in their vehicles at all times and that no one arrives prior to 10:30 a.m. IU Health is the sponsor for this event.
The Michigantown Lions Club will have its Annual Fall Meal on Sunday, October 11, from 11 a.m. to 2 p.m. at the Michigantown Lions/Alumni Building. This is a drive-thru only style event, with no touch, meal for carry out. The cost is a free will donation. Menu will consist of ham loaf, beef and noodles, mashed potatoes, seasoned green beans, applesauce, bread and butter and dessert. The meal is prepared in Safe Kitchen and packaged with no touch by caterer Linda Barnett. Call 765-652-4025 for orders or questions.
Rob Bales is a retired Frankfort City Police Officer and is battling with ALS. He is in need of a ALS power chair which is fitted for him and is expensive. After insurance, his co-pay if $5,400. They have had a lot of expenses dur to this illness. Teresa (his wife) is Rob's sole caregiver and needs to be able to focus on that and not on how to pay for this. Most importantly, prayers are needed for the family. As a community, let's give back to Rob who has dedicated his career in serving and protecting all of those that live in Clinton County. If you are able to help in any way financially (any amount is appreciated), please donate to Robert Bales ALS Donational Fund, First Merchant's Bank, 60 S. Main St., Frankfort, IN 46041. 765-654-8533.
Thursday Thunder has just one month remaining. The next scheduled Thunder is Thursday, October 1, from 5:30-8 p.m. around Veteran's Park in downtown Frankfort. The final Thursday Thunder of the year is scheduled for Thursday, October 15, from 5:30-8 p.m.
The First Annual Golf Fore The Paws Cause will be held Saturday, October 3, at the Frankfort Commons Golf Course. This is a fundraiser benefiting the Humane Society of Clinton County. This golf scramble tournament is an opportunity to have fun, enjoy friends, showcase your skills and win cash prizes. However, at the core of this tournament is helping animals get the care they need and find their Forever Home. For more information and to register, go to Forethepawscause.com.
In His Image, formerly First General Baptist Church, 2940 E. 50 North, Kokomo, will be having a Country Breakfast on Saturday, October 3, from 7-10 a.m. Menu will include sausage, scrambled eggs, sausage gravy, biscuits, orange juice and coffee. Freewill offering accepted and carry out available. Call 452-7889.
The National Night Out event is set for Tuesday, October 6, from 6-9 p.m. Due to the coronavirus, the public is being asked to turn their porch lights on and spend the night with their neighbors and the police. Frankfort Police will have extra officers out on patrol and in neighborhoods.
Frankfort Unified Neighborhood (FUN) will be having a Trunk or Treat event on Saturday, October 31, from 5-9 p.m. at TPA Park. They are asking trick or treaters to have costumes and/or masks on and stay in cars. FUN will be taking candy donations that can be dropped off at the Eagles Monday and Wednesday to the kitchen to Rodney Mounts, There will be a route for cars to follow coming in off Kyger Street similar to the Christmas route but not set in stone yet. One way in and one way out. More details to follow. Jennifer Davis and Jennifer Hatfield will be taking donations also. Lots of scares and props. Fester Adams will be there too.
The Clinton County Health Department has announced that its COVID-19 testing site has moved to the Edward Jones 4-H Community Building at the Clinton County Fairgrounds. Hours are currently 8 a.m. to 6 p.m. Monday through Friday. For more information, call the Health Department at 659-6385.
Each month through October, the Paul Phillippe Resource Center will have a drive-thru food give away to help with food and other essential supplies. I.D. will be required. There are 80 available slots for seniors age 55 and up. If you want to add your name and phone number to the August list, contact Lisa Shumate at Paul Phillippe Resource Center at 765-659-4060.
Immunizations are available by appointment only at the Clinton County Health Department, 400 E. Clinton St., on Tuesday, Wednesday and Thursday from 10:30 a.m. until 5:30 p.m. At this time, the Health Department is no longer giving immunizations at the Frankfort IU Hospital immunization clinic and all previously scheduled walk-in clinics are cancelled. Vaccine for uninsured kids, those on Medicaid and privately insured are all available at the Health Department as well as vaccine for privately insured and uninsured adults. To make an appointment, call 765-659-6285, extension 1308.