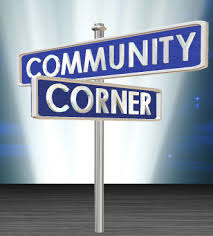 Healthy Communities invites you to a Holiday Open House from 3-6 p.m. on Wednesday at their new location at 16 N. Main St., in downtown Frankfort. Appetizers will be available and an awards presentation will be at 5:30 p.m.
The Frankfort Community Public Library will host "A Library of Trees" through January 2. Guests can vote for their favorite trees by donating new hats, gloves/mittens, scarves and/or canned food items. A decorated collection box will be placed at each tree for donation votes.  At the end of voting, food items will be taken to the Salvation Army, and clothing items will be placed on the library's "Giving Tree" during the month of January, available for our patrons' use. Voting for your favorite tree ends on Wednesday, December 18. For more information, call 765-654-8746.
The Frankfort Community Public Library (FCPL) will be hosting a DNA Q & A with biologist and genetic genealogist Robert Sliwinski on Saturday, November 23 at 2:30 p.m. in the Lower Level Meeting Room.  Whether you are thinking about taking a DNA test, just received your results, or want to dive deeper into genetic genealogy, this program is for you.  Feel free to submit your questions in advance by emailing them to FCPL's genealogy coordinator, Jill Garrison, at jgarrison@myfcpl.org.  Please be succinct when submitting your questions.  This program is free, but registration is required.  To register, call 765-654-8746, visit myfcpl.org/calendar, or stop by the library.
The Community Thanksgiving Dinner will be held Thursday, November 28, from 11 a.m. to 1 p.m. at the Frankfort Neighborhood Center, 259 S. Third St. To donate money, contact Keona Stidham at 765-242-7065. To donate food, contact Daisy Shoemaker at 765-242-5937. For home delivery, contact Jim Day at 765-242-4842. To make contributions, make check to Community Thanksgiving Dinner, c/o Farmers Bank, 9 E. Clinton St., Frankfort, IN 46041. For more information, contact Executive Director Aaron Congleton at 765-650-6926.
Curbside recycling collection dates for City of Frankfort residents in November are November 20 (Southwest) and November 27 (Southeast). Residents are welcome to drop off their recycling at the Frankfort Street Department, 905 Burlington Avenue between 7 a.m. and 3 p.m. Monday through Friday.
Frankfort Street Department has started leaf collection. It will start in the southwest quadrant of the city before moving to the northwest quadrant, followed by the southeast quadrant and wrapping up with the northeast quadrant. Leaves, brush and grass clippings can always be brought to the Street Department's compost site at 905 Burlington Avenue from 8 a.m. to 4 p.m. Monday through Friday and on the first and third Saturdays of each month from 8 a.m. to noon year round.
American Legion Post #12 at 451 W. Clinton St. is having Saturday Night Dinners from 5-7:30 p.m. through March 28. Dinners include a side salad and your choice of baked potato, fries, onion rings or cole slaw. This is open to the public.
The following events are coming up at the Delphi Opera House:  November 22-24 — Elf Jr. The Musical, A Red Brick Theatre Production; December 7 — Delphi singer and songwriter Malachi Jaggers and Jean Watson; December 13 — Al Rossi and Mike Tetrault; December 14 — 1980s Dance Party with the JayWalkers; December 31 — Tuxedo Junction. Tickets and details: www.delphioperahouse.org or call 765-564-4300.
To qualify to be a recipient of the Kokomo Rescue Mission's Red Ribbon Christmas Outreach, applicants must present proof of income, a Photo ID, Social Security cards for everyone over the age of 1 (Birth Certificates for infants only under 1 year old) or Medicare cards (must have Social Security number on the card) and Birthdate for everyone in household (Birth Certificate is preferred or official document with printed date including year).Those in Clinton County can register on Tuesday, November 19, from 3:30-5:30 p.m. at the Paul Phillippe Resource Center, 401 W. Walnut St., Frankfort. For more information, call 765-456-3838.
Join the Frankfort Community Public Library for "Learning Syllables Through Drumming" with Arts for Learning teaching artist Lawrence Clark III on Tuesday, November 19, from 11 a.m. to noon in the Lower Level Meeting Room at the library. Children ages 3-6 and an adult are invited to experiment with words, syllables and articulation to create their own pattern of sounds. They will learn about rhythm, patterns and rhymes and also get to sing songs. There is no cost for the program. To register, call the Children's Department at 765-654-8746.
The following activities is going on at the Paul Phillippe Resource Center: Chair exercises will be on November 21 at 10:30 a.m. Starting in January, it will be every Thursday at 10:30 a.m.; Walking club meets on Tuesday at 1 p.m.; Coffee hour will be first and third Tuesday of every month at 10 a.m.; Texas Hold'em will November 22 at 1 p.m.
The Kokomo Civic Theatre will present 'The Best Christmas Pageant Ever' by Barbara Robinson at 8 p.m. on Friday, November 22, and Saturday, November 23; and at 2 p.m. on Sunday, November 24, at Havens Auditorium, Indiana University Kokomo. Cost is $15 for adults, senior citizens, $12 and students, $10 (through college). Tickets may be reserved in advance by calling 765-454-8800.
The Harrison Band Boosters is having its annual Harrison Bands Craft Fair on Saturday, November 23, from 9 a.m. to 2 p.m. at Harrison High School, 5701 N. 50 W, West Lafayette. Admission is $2, 10 and under are free. The event features all handmade arts and crafts, baked goods and Harvest Cafe serving breakfast items, lunch items and snacks.
South Side Christian Church, 201 E. Markland Ave., Kokomo is having a Free Community Thanksgiving Dinner on Wednesday, November 27, from 5-6:30 p.m. This is sponsored by South Side Christian Church, First Christian Church and Northview Christian Church. For more information, call 765-457-9357.
The Chapel Gallery, 321 W. Main St., Delphi is celebrating its first full year of business with an Anniversary Open House reception on Saturday, November 30, from 5-8 p.m. Enjoy live music, refreshments and great art. Shop small for Christmas all weekend with special discounts.
All women of the Kokomo Community are invited to an ecumenical "A Gathering of Women: Carols, Candles, and Communion" on Monday, December 2 in the sanctuary of First Evangelical Presbyterian Church, 2000 W. Jefferson. This service, led by and planned just for women, is from 7-8 p.m. This is a worship time for all women in our community to gather in preparation: to calm ourselves and to welcome the coming of Christ again into our hearts and homes. Please make dessert reservations at www.firstepc.com
An American Red Cross Blood Drive will be held at IU Health Frankfort Hospital, 1300 S. Jackson St., from 8 a.m. to 1 p.m. on Friday, December 6.To donate blood, simply download the American Red Cross Blood Donor App, visit RedCrossBlood.org, call 1-800-RED CROSS (1-800-733-2767) or enable the Blood Donor Skill on any Alexa Echo device to make an appointment or for more information.
Join us on Saturday, December 7, at Blackhawk Winery in Sheridan for a Brunch with Santa followed by a Santa's Workshop. From 11 a.m. to 1 p.m., kids and their parents will enjoy a fun waffle bar brunch and have the opportunity to talk with Santa and tell him if they've been naughty or nice. After brunch and visiting with Santa, the annual Santa's Workshop will be held. For more information, visit the website at http://www.blackhawkwinery.com.
The Howard County Senior Citizens Christmas Luncheon will be held Thursday, December 12, at the Salvation Army Community Center, 1007 E. Foster St., Kokomo. Luncheon begins at 11:30 a.m. and concludes at 1 p.m. A holiday will entertain all in attendance. Reservations are required by calling 765-456-3846 and are limited to the first 75.
The Russiaville Winter Fest is scheduled for Friday, December 13, from 6-8:30 p.m. at the Russiaville Fire Department, 140 E. Main St., Russiaville. Starting at 6 p.m., they will be stringing popcorn and cranberries and making handmade ornaments to hang on the town Christmas tree located in Brady Park. They will be the lighting the tree at 7:15 p.m. when Santa and Mrs. Claus arrive. Popcorn, hot chocolate will be served and they will have cookies to decorate.
The following is a schedule of Special Events in Frankfort, Clinton County and surrounding areas: November 22-January 1 — Christmas Celebration of Lights, Frankfort; November 28 — Community Thanksgiving Dinner, Frankfort Neighborhood Center, 11 a.m. to 1 p.m.; December 6 — Kokomo Home for the Holidays Celebration; December 7 — Frankfort Christmas Parade, 3 p.m.; December 7 — Christmas in Kirklin, 10 a.m. to 4 p.m.; December 7 — Greater Lafayette Christmas Parade.