Learning and discovery go together like peanut butter and jelly.
90 Crossing students went behind the scenes at Indy Executive airport to learn about aviation, flying and related job opportunities.
Pilot Brian Farmer gave about 20 students a "discovery flight" over the Zionsville/North Indianapolis area. Several Crossing Students had never flown before and were able to taste flight for the first time in their lives.
"What an amazing experience for our students today! " said Crossing School Director Marrisa Mills. "Not only did many get to fly today but we had the pleasure of meeting our former U.S. Vice President (Mike Pence) who graciously shook hands, took selfies and encouraged us all to 'work hard and pray harder'. First Wing and volunteers made the experience possible" Mills said.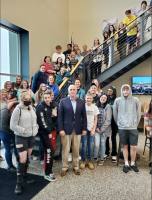 Indy Exec airport near Zionsville is operated by First Wing Aviation, the same fixed-base operator serving Frankfort/Clinton County Airport (KFKR) and Grissom Airport (KGUS) north of Kokomo.