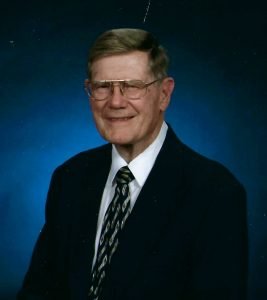 Donald J. Caruthers, 94, of Frankfort, and formerly of Grandview, MO, passed away Thursday, August 6, 2020 at Wesley Manor.
Visitation will be held Saturday, August 15, 2020 from 12pm until the time of the service at 1pm at Genda Funeral Home in Frankfort.  Chaplain Deborah Musick will officiate.  Burial will follow at Green Lawn Cemetery in Frankfort.  In lieu of flowers, memorial contributions may be made to the Wesley Manor Good Samaritan Fund, Grandview Methodist Church in Grandview, MO, St. Matthew United Methodist Church or the charity of your choice.
Don was born February 12, 1926 in a farm home north of Saffordville, KS.  He graduated from Westport High School in Kansas City, MO in 1943 and received a BS in Education from Emporia State University in 1950.  Don served in the 1st Cavalry Division in WWII and the15th Medium Tank Battalion during the Korean War.  Don was employed for 36 years at Allied Signal in Kansas City, MO.  Don married Mildred Voth on October 19, 1952.  She preceded him in death June 3, 2013.  Don is survived by his sons, Jim (Becky) and Tom (Julie) Caruthers; and grandchildren, Jesse, Grace, and Katie; along with many loving nieces, nephews, and friends.
Online condolences may be directed to www.gendafuneralhome.com.