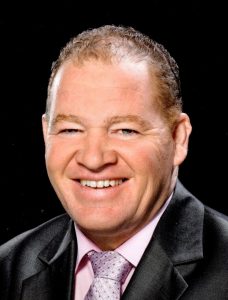 Donald Ray "Donny" Barnes, 58, Rossville, passed away Friday, January 21, 2022, at Franciscan Hospital in Lafayette.  He was born February 27, 1963 to George Ray and Trula (Taylor) Barnes.  He married the love of his life, Elena, on October 15, 2009, and she survives.
He attended Frankfort Senior High School and went on to be the owner of Helen's Express Trucking Company.  He was a man of many talents and a mechanical mind that he could fix just about anything.   He loved working on his 28 year old semi; fishing, boating, drag racing, and traveling in the RV with his family.   He enjoyed life to the fullest, but above all, he loved his family, especially his wife and children, whom he adored.
Along with his wife of 12 years, Donny is survived by his mother; children, Sofia and Stefan Barnes; siblings, Debbie (Donnie) Baker, Darla Barnes, David (Tamra) Barnes and Daniel (Kim) Barnes; "adopted brothers," Jason Stevens Tracy Abbott; and ten nieces and nephews.
He was preceded in death by his father.
Visitation will be held, Tuesday, January 25, 2022, from 11am until the time of the service at 1pm, at Genda Funeral Home ~ Rossville Chapel.  Burial will follow at Bunnell Cemetery in Frankfort.  In lieu of flowers, memorial contributions may be made to the family, in care of the funeral home to assist with funeral expenses and support the family.  Messages of condolence may be left at www.gendafuneralhome.com.