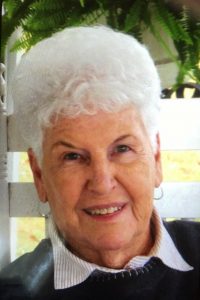 Dorothy "Irene" Carrithers, 92, of rural Lafayette, passed away on Monday, June 10, 2019, at Mulberry Health.  She was born April 15, 1927, in Gallatin, Tenn., to Foster and Agnes (Watson) Wallace.  On June 12, 1970, Irene married Larry Carrithers; he survives.
Irene was a former member of Southport Baptist Church and Imminence Christian Church.  She had worked as an accounts payable clerk at Eli Lilly.  Irene enjoyed reading, flower gardening, sewing, cooking, and shopping.  She had a wonderful sense of fashion and was quite the shoe shopper.  Irene was a wonderful wife and proud woman who will be remembered for her resourcefulness, determination, and no-nonsense attitude in addition to her quick wit and zingers.
In addition to her husband, Irene is survived by their children, Rodney (Cele) Flanary, of Raleigh, NC, Nancy Warmoth, of Westchester, Ohio, Priscilla Flanary, of Lebanon, Mark (Elizabeth) Flanary, of Indianapolis, Cindy Carrithers, of DeLand, Fla., D'Lee (Brad) Baugh, of Avon, Robin (Chas Jr.) Schaffernoth, of Maryland, and Doug (Nancy) Carrithers, of Columbus; sister, Myra Ray, of Whiteland; 14 grandchildren, and 14 great grandchildren.
Irene is preceded in death by her parents and sister, Sue Douglas.
Visitation will be held on Thursday, June 13, 2019, at Genda Funeral Home Mulberry Chapel from 5:00 – 7:00 p.m.  A graveside service will begin at 1:00 p.m. on Friday, June 14, 2019, at Forest Lawn Memory Gardens in Greenwood with burial following.  Memorials in Irene's name may be made to Concord Neighborhood Senior Citizens Program.  Online condolences may be directed to www.gendafuneralhome.com.