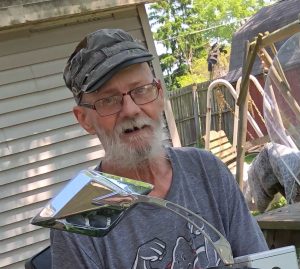 Edward "Ed" Heavilon, 63, of Frankfort, passed away on Friday, April 16, 2021, at his home. He was born on January 24, 1958, in Frankfort to Robert Eugene and Phyliss Joan (Worth) Heavilon.
Ed attended Madison-Grant High School. He served in the United States Marine Corps. He worked at Exide Battery prior to retiring from Kay-Co in 2019 after 18 years in shipping.  Ed played the harmonica and was looking forward to riding his motorcycle this year.
Ed is survived by his sons, Jeremy (Freedom) Heavilon of Mitchell, IN and Dustin Lee Heavilon of Logansport, IN; daughters Corra Jo Cochran of Ft. Myers, FL and Angelica Marie Heavilon of Rossville, IN; brothers Robert (fiancé: Malinda Kincade) and Roy Eugene Heavilon both of Frankfort; sister Starr Jones of Frankfort; and grandson William Heavilon.
He is preceded in death by his parents and sister, Tressa.
Visitation will be held on Wednesday, April 21, 2021 from 1 to 3 p.m. at Genda Funeral Home in Frankfort with the funeral following at 3:00 p.m. Burial will follow at Bunnell Cemetery in Frankfort. Genda Funeral Home in Frankfort is entrusted with the arrangements.
Memorial contributions in Ed's honor may be made to Clinton County Cancer, 258 ½ Fourth Street, Frankfort, IN 46041.
Online condolences may be directed to www.gendafuneralhome.com.