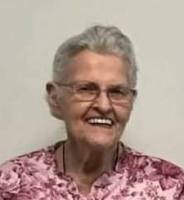 Elizabeth Lorene (Cortner) Krick, age 92, of Kirklin, Indiana passed away at home on September 29, 2021.
She was born on July 28, 1929, in Randolph County, near Lynn, Indiana, to Marvin and Grace (Baldwin) Cortner.
Lorene attended Saratoga High School in Saratoga, Indiana.
She was married to John Jr. Krick. She met the love of her life, beginning as Pen-Pals during WWII when John was in the Army. He and Lorene became engaged during a furlough between his time in Germany and being sent to Japan. The war ended and on April 27, 1946, they were married near Richmond, Indiana. John and Lorene were married 66 years until his death on March 5, 2013.
Also preceding her in death are her parents, three brothers:  Leland M. Cortner, David Lemoine Cortner, and Carl William Cortner; two sisters: Eileen Vermillion and Melvajean Cox; one son, Steven Krick; three preemie grandsons, one great granddaughter (infant), and a son-in-law, Rev. Johnnie Blair.
She is survived by five daughters: Linda Blair of Lakeland, Florida, Connie L. Linville of Waldron, Indiana, Dianne (Rev. Dennis) Campbell of Kirklin, Indiana,  Melva (Joe) Carey of Shelbyville, Indiana, and Jeanine (Steven) Emery of Bellaire, Michigan; a daughter-in-law, Jackie (Hines) (Krick) Blair (Jerry) of Muncie, Indiana; a brother, Delbert (Mary) Cortner of Fort Wayne, Indiana; a sister-in-law, Evelyn Cortner of Missouri; 21 grandchildren, 54 great-grandchildren, 15 great-great grandchildren, and several nieces and nephews.
Lorene was a homemaker, and with her husband and family, was in Song Evangelism from 1960-1998. In recent years she attended Frankfort Bible Holiness Church, Shelbyville Bible Holiness Church, and Noblesville Pilgrim Holiness Church.
She and her husband were foster parents for several years when they lived in Lynn, Indiana, Randolph County.
Visitation will be held from 4 to 7 p.m. on Monday, October 4, 2021, at Genda Funeral Home in Frankfort. Funeral service will be at 10:00 a.m. on Tuesday, October 5, at Noblesville Pilgrim Holiness Church, 1413 Westfield Road, Noblesville, Indiana with Rev. Mark Mowery officiating.
Graveside service will be at 3:30 p.m. on Tuesday, October 5 in the Weimer Cemetery, north of SR 28 on the Saratoga Road in Saratoga, Indiana.
In lieu of flowers, memorial contributions in Lorene's name may be made to Noblesville Pilgrim Holiness Church Outreach Ministry at https://noblesvillephc.com/donate.
Online condolences may be directed to www.gendafuneralhome.com.