Esta Cox, 97, of Frankfort, died at 4 a.m. April 23, 2019 at her home with her loving family.  She was born March 12, 1922 in Michigantown, Ind. to Fay & Lucy (Paris) Avery.  She married George R. "Bob" Cox on October 6, 1946 and he preceded her in death on June 30, 2008.
Mrs. Cox was a 1940 graduate of Michigantown High School and a lifelong Clinton County resident.  She worked as an operator and clerk for Indiana Bell for 38 years, retiring in 1981.  Esta's membership include the First Christian Church, where she was very active, United Workers Sunday School class, Esther Circle, Telephone Pioneers of America, and Woodside Home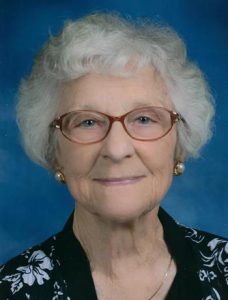 Economics Club. She was a living inspiration to her family and everyone who knew her.  She will be deeply missed by all.
She is survived by 1 Daughter:  Karen Henricks of Monticello, Ind., 2 Sons:  Jeff (Susie) Cox of Fishers, Ind. and Brad (Susan) Cox of Tipton, Ind., 7 Grandchildren and 11 Great Grandchildren.
In addition to her parents and husband, she was preceded in death by 2 brothers, Ernest & Byron "Barney" Avery and a sister, Julia Farley.
Funeral Celebration
 Visitation will be 10-11 a.m. Monday, April 29, 2019 at Goodwin Funeral Home,  200 S. Main St., Frankfort.  Funeral celebration will begin at 11 a.m. at the funeral home.  Pastor Pam Ditson-McCall will officiate.  Burial will be in Green Lawn Memorial Park.  Memorial donations may be made to the First Christian Church.  Please visit goodwinfuneralhome.com where you may share a personal message for the family.