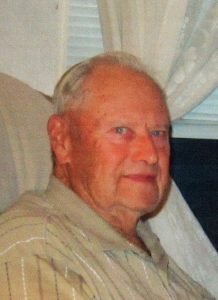 Estel Laverne Rex, 92, of Mulberry, passed away on Tuesday, April 12, 2021, at Franciscan Health in Lafayette. He was born in Lafayette on April 15, 1928 to Elmer and Daisy Ann (Gould) Rex.  He married Lois Lykken on September 17, 1950; she survives.
Estel was a lifelong Clinton County resident, living on the family farm until about 4 years ago when he and Lois moved into The Cottages of Mulberry.  He was a 1947 graduate of Mulberry High School and graduated from the Purdue Agriculture Short Course.  Along with farming, he worked in the county surveyor's office for eight years and drove a school bus for 13 years.
He was a 65-year member of the Trinity Church of Mulberry where he was a past trustee, deacon, and elder.  He was also a member of the Mulberry Community Club, Wildcat Conservation Club, Clinton County Campers, and was a 50-year Mason.  He enjoyed playing cards.
Surviving along with Lois, his loving wife of 70 years, Estel is survived by his son, James A. Rex (life partner, Mary Diaddigo), and niece, Janice Endicott.
He is preceded in death by his parents; sister, Donna Cleveland; infant sister, Reba; and two nieces, Sharon Bennett and Rita Lewis.
Visitation will be held on Saturday, April 17, 2021 from 1:00 p.m. until the start of the funeral service at 2:30 p.m. at Trinity Church of Mulberry.  The funeral service will begin with a Masonic Service.  Pastor Phil Whisler will officiate.  Burial will follow in Fair Haven Cemetery in Mulberry.  Genda Funeral Home, Mulberry Chapel is entrusted with the arrangements.
Memorial contributions in Estel's honor may be made to Trinity Church of Mulberry, PO Box 358, Mulberry, IN 46058.
Online condolences may be directed to www.gendafuneralhome.com.