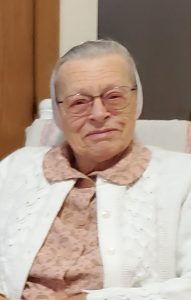 Faye A. Kessler, 98, of Marion, formerly of Rossville, passed away on Wednesday, September 20, 2023, at her daughter's home in Marion. She was born on February 6, 1925, in Cerro Gordo, Illinois, to Abe H. and Lizzie (Wagoner) Miller.  She married Calvin D. Kessler on April 27, 1947: he preceded her in death on June 6, 2006.
Faye was a farm wife, a competent keeper of the home, and a faithful helpmate to her husband. She and her husband managed rental properties over the years. She was a longtime member of the Cutler Ridge Old German Baptist New Conference Church.
Surviving Faye are a daughter, Barbara (Melvin) Royer of Marion; son, Julian Kessler of Rossville; and a sister-in-law, Marilyn Gascho of Mulberry.
She was preceded in death by her parents; husband, Calvin; brother, Robert Miller and Elmer (Margaret) Miller; and brothers-in-law, Carroll (Charlene) Kessler and Raymond Gascho.
Visitation will be Saturday, September 23, 2023, from 9:00 to 12:00 p.m. at Cutler Ridge Old German Baptist New Conference Church. Graveside services will follow at 2:00 p.m. at North Fork Old German Baptist Brethren Cemetery. The home brethren will officiate the graveside service. Messages of condolence to the family are welcomed at www.dayandgenda.com.