The 8th annual Frankfort Fire and Ice Festival brings Ice Sculptures, Fireworks and the Circle City Fire Performers to downtown Frankfort on Saturday February 11th.
Festival hours are published as noon to 8. Carving will start early Saturday morning, however, and the festival will end after downtown fireworks starting at 7:30 Saturday evening.
The Fire and Ice festival founder was Dr. Jill Snyder 8 years ago and for the last 6 years, the Frankfort JayCees organized the event as a fundraiser.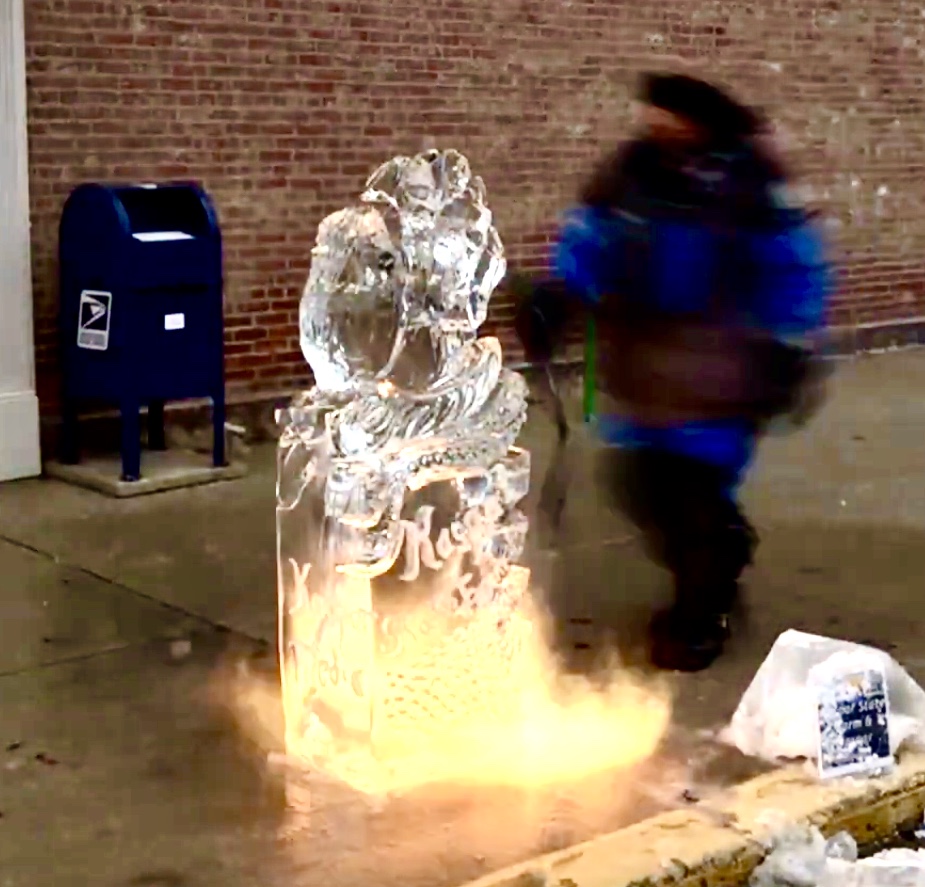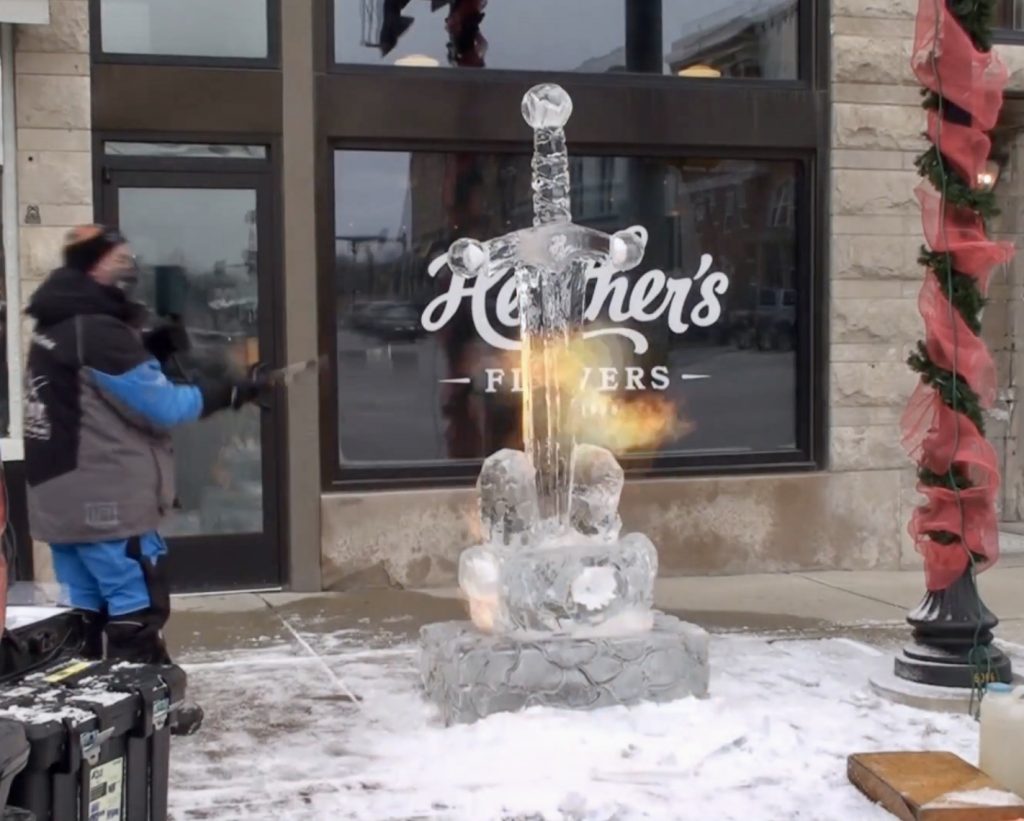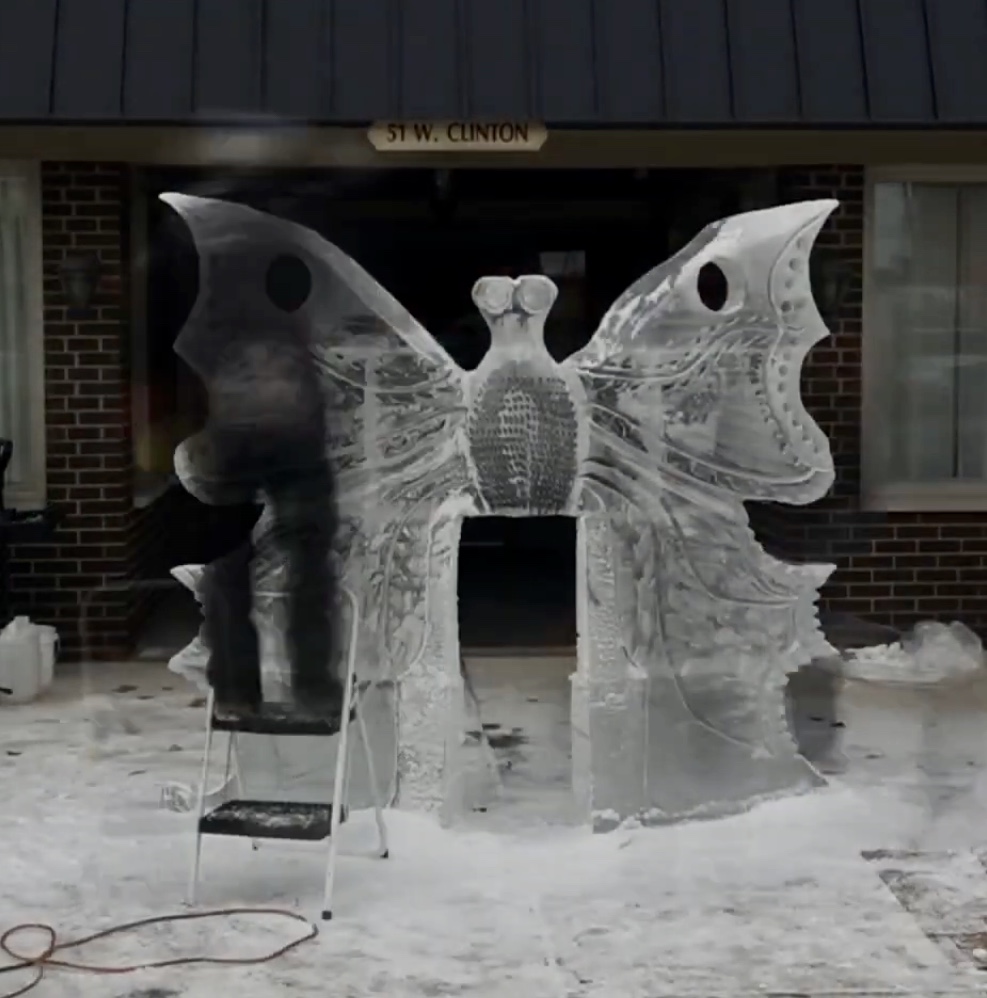 The JayCees hope to have 37 Ice Sculptures this year to top the best year of 36 Ice Sculptures adorning the downtown area, according to JayCee President and event co-ordinator Joel Tatum. As of January 31, JayCees booked 31 sculptures for this years' festival.
Circle City Fire Performers will Spin, Swallow, and Dance with fire in five performances this year.
Schedule of 2022 Fire and Ice Festival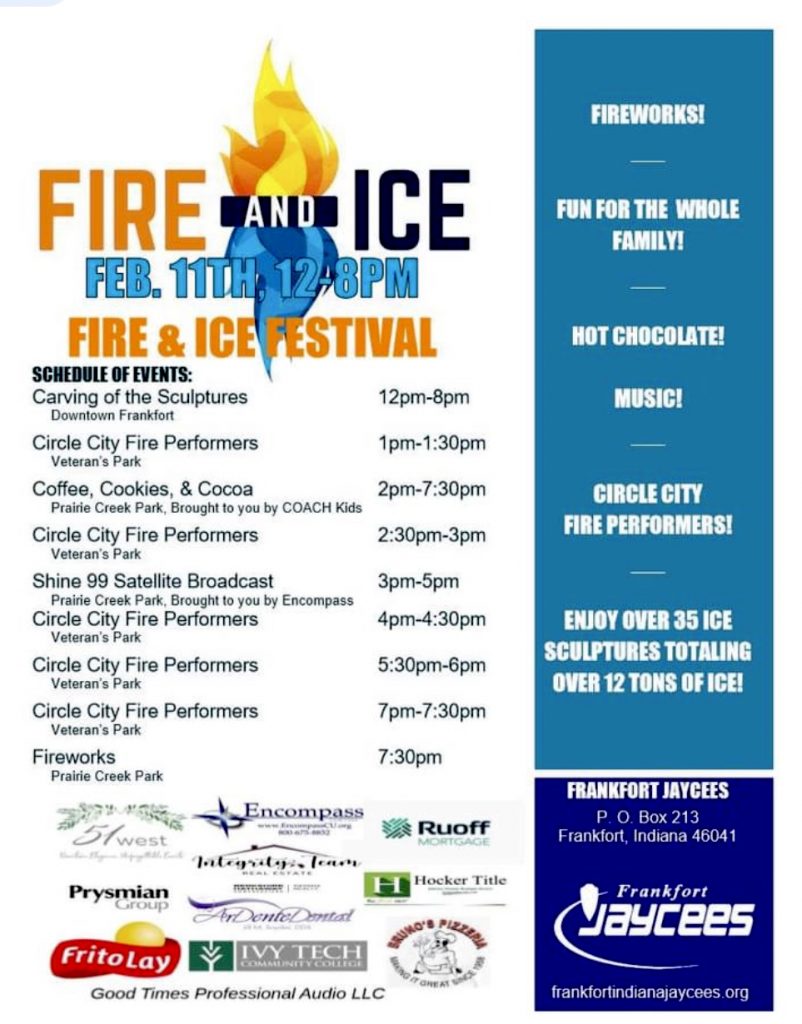 Hot Chocolate will be served at Prairie Creek Park in the Encompass event room. Also at Prairie Creek Park, Encompass Credit Union will team up with Coach Kids to recruit mentors and answer any Coach Kids questions you may have during a Shine 99 LIVE remote broadcast with Cindy Loveless from 3pm to 5pm.
WILO will also broadcast LIVE from 3pm to 5pm with Todd Berryman, powered by Center Township of Clinton County – Jami Pratt.
Look for marshmallow stations to warm yourself and roast marshmallows as you check out the ice sculptures around the square.
Sculptures will range from 300, 600 and 900 pounds plus Festival Founder Dr. Jill Snyder will present a sculpture starting out as 3000 pounds of ice. In the past, Snyder as featured large sculptures of a Piano, Butterfly, Swan and Carriage.
The Frankfort JayCees have about 20 members on their roster with 11 members actively participating in the festival. JayCees is an organization of young business people under the age of 40 who volunteer their time to organize community events such as the TPA Park fireworks display on July 4th, ASI Halloween Party, Holiday Helpers for Kids, Anti Rabies Clinic in April and the Distinguished Young Woman competition for Clinton County ladies held each April.
Photography and Time-Lapse Video/special effects produced by Erick Dircks. Music written and performed by Russ Kaspar.