Frankfort Rotary Club and guests were treated to 10 minute presentations by EACH of the four public school superintendents Thursday evening at Arborwood in Frankfort. Rotary President Carol Price set up the meal gathering and introduced each of the educators.
Dr. Jim Hanna (Rossville) , Joel McKinney (Frankfort) , Scott Miller (Clinton Prairie) and Allen Remaly (Clinton Central) all face challenges of
staff shortages,
navigation through COVID-19 realities,
catching up after "learning loss" in 2020-2021 school year,
child care responsibilities and early learning programs
closing the gap on children simply needing the necessary daily school supplies to get the job of learning done.
Rossville elementary employs 41 staff members and the Middle/Senior school staff totals 51 team members. One surprising statistic for Rossville High School: 66% of high school students are in some way involved in Ag learning of some sort. Dr. Hanna is in his 22 year as superintendent at Rossville and has the unique opportunity to involve students from High School all the way down to Elementary students in one single activity such as the current "Frozen" production planned for this year.
Rossville has 9 bus routes now, all co-ordinated by Hanna himself. "Please watch out for school buses" pleads Hanna. Stop arm violations occur by the dozens each year and must be prosecuted, according to Hanna. "We have cameras in each bus and we will prosecute each stop arm violation" said Hanna. It is a life and death issue. Hanna reminds everyone to drive carefully.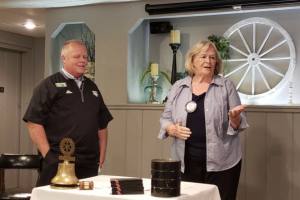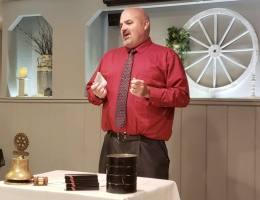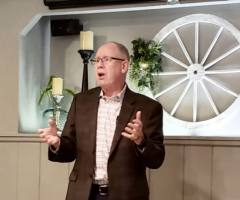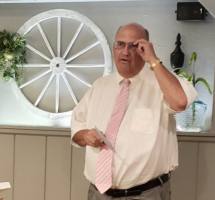 Joel McKinney of Frankfort School Corporation is in his 39th year as an educator. McKinney is responsible for leading a school district with 3,100 students and growing each year. "Soon there will probably be over 1000 students in Frankfort High School" said McKinney. There are already 960 as of today and that number continues to grow.
Frankfort is very involved in Pre-K learning with 150 4 year olds participating in some sort of Pre-K experience. After school tutoring is available for all students. This is a vital and necessary offering because of the "learning losses" which may have occurred in the Covid-scarred learning year of 2020-2021. The Frankfort School Corporation has hired the second highest number of new staff in the last 10 years. This year, all superintendents are reporting staffing challenges because the number of available people is so low, regardless of the positions sought.
Mask requirements in Clinton County schools are largely up to the parents or students, with some strict masking requirements in force while riding the school bus (federal mandate) or working within 3 feet of other students. Contact tracing is generally limited to the three foot proximity rule. All county schools at this time have very small percentages of students or faculty with Covid-19 or in quarantine at this time. The percentage of students able to actually be present in school in all Clinton County Schools at this time is generally 95% or more. This number may change "next week", depending on trends and requirements superintendents cannot control.
All four public school superintendents are in contact with the Clinton County Health Department and are additionally guided by school board decisions. Clinton County Health Officer Dr. Tharp has indicated "I want your students in school but I want them in school safely". All superintendents at the Rotary Meeting Thursday are working with the health department, school boards, parents and sometimes arcane regulations and enigmatic restrictions to arrive at that end.
80% of Frankfort's school population qualifies for Free or Reduced lunch.
Clinton Prairie School Superintendent Scott Miller has 25 years of experience in the classroom and in education administration but 2021 marks Millers first year at the helm as School Superintendent. "I have always been able to look out my window and see a cornfield " said Miller about his experience as an educator. "I am a rural school educator." And Miller would not have it any other way. Clinton Prairie is challenged with the current "Qualified Teacher Crisis" just like other schools. In fact, Miller's responsibilities includes driving a school bus with his CDL license to pitch in where he is needed.
Miller recognizes that people in his district, like many all over, are "extremely passionate about their school and their beliefs".
The four superintendents seem to have a close working relationship and often collaborate on problem-solving because they face similar challenges and issues. This county school administration collaboration allows each superintendent to profit from the decades of total experience around the table or on the zoom screen.
Clinton Central's Allen Remaly is experiencing growth in total enrollment with 867 kids involved with the Clinton Central School System. Clinton Central is dedicated to vigorously addressing the "learning loss" issue with extra help available for each student. I encourage each teacher to "start teaching where they are". This means if they are really on page 450 of LAST YEAR's book, don't necessarily start on page 1 of THIS years book. "Start teaching where they really are" says Remaly.
Clinton Central was the first school in the nation to be certified by the National Superintendents Association for Early Learning in their registered pre K Day Care. "We try to get kids in as early as we can" said Remaly. The 21 century grant that has helped Frankfort and now Clinton Central has proven to be extreamly valuable for Books, Food and Supplies, said Remaly. Ivy Tech and Clinton Central also have a partnership that allows many students to graduate with 60 classes contributing to post secondary education before High School Graduation at Clinton Central. Clinton Central was the first High School in the state to have a formalized agreement with Ivy Tech.
When asked "how can we help?", a common theme among all four educators seemed to be an appeal to strongly encourage the public to be aware of the help needed to address shortages in student personal supplies. Rotarians were reminded to be aware of the reality some families have when it comes to monetary resources, food and needed supplies. Don't discount the importance of School foundation funds, valuable back-pack programs and similar programs that make a huge difference to students who come to school with less than adequate supplies and resources.