The Frankfort High School Graduation Ceremony will be broadcast LIVE on WILO TV again this year.  Erick Dircks also plans to record (for viewing later) the Clinton Central Graduation Ceremony as well.
Start time is 10:00 AM Saturday May 26.
The LIVE production of the Frankfort High School broadcast this year is a joint project of the Frankfort High School Media Department and Kaspar Media.
Telecommunications Department head Richard Sallee has selected Frankfort High School student Ivan Santos for the position of Producer of this multi-camera production.  The result will be a team effort of several students running several cameras and using student-generated graphics.  Kaspar Media (WILO/Shine 99/Clinton County Daily News) is proud to partner with the Frankfort High School Telecommunications Department to make this LIVE World-Wide and Archived production possible. Technical assistance for the production was also provided by Martin Hale, IT director at the High School.
The broadcast will be available on the High School's normal You-tube channel and WILO TV.com simultaneously. The link to WILO TV is on the upper right portion of the Clinton County Daily News mast head above.
CLICK HERE to go to www.wilotv.com.
The community partners who made this production possible for Kaspar Media are:
Ivy Tech Community College
Wamplers Services, Inc.
Welty Custom Exteriors
Encompass Credit Union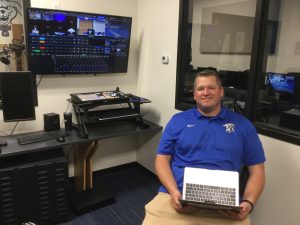 (edit)