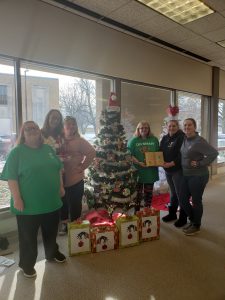 Thank you to all the organizations that participated in the Library of Trees at the Frankfort Community Public Library!  These generous organizations provided and decorated trees to create this beautiful exhibit to inspire giving this season. Because of these creative trees, the community came out in full support to vote for their favorite tree by donating non-perishable food and warm winter items.  We are overwhelmed by the amount of donations received in just one month. By the end of voting, we have collected a total of 1,566 items!  This is truly amazing!
We would like to congratulate the Learning Ladder/Clinton County Family YMCA, who was voted "Favorite Tree" with a total of 243 items, followed by Girl Scout Troop #810 with 221 items, and the American Legion Post 12 rounding the top three with 214 items.
Thank you again to the following participants and to all our thoughtful patrons who donated items. You are providing local families with a much happier holiday season!
Learning Ladder – Early Learning Preschool & Childcare (Clinton County Family YMCA)
Girl Scout Troop #810
American Legion Post 12 Auxiliary
Camp Cullom
Clinton County Boys & Girls Club
Clinton County Humane Society
Frankfort Garden Club
Frankfort High School National Honor Society
Genda Funeral Home
Goodwin Funeral Home & Archer-Weston Funeral & Cremation Center
Healthy Communities of Clinton County
Paul Phillippe Resource Center
Quinton's House
Salvation Army of Clinton County
VFW Post 1110