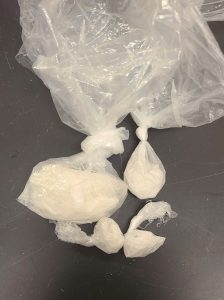 Just before 1:30 a.m. Saturday, Trooper McKinney was leaving IU Hospital in Lafayette when he noticed a 2016 Kia Forte blocking the travel lane of the parking lot. Trooper McKinney approached the vehicle and spoke with the driver, who initially provided a false name. Trooper McKinney later identified the driver as Ethan Shelton, 23, from Frankfort. Further investigation revealed that Shelton had two active warrants for his arrest out of Clinton County.
While speaking with Shelton, Trooper McKinney observed signs of impairment. Trooper McKinney administered Standard Field Sobriety Tests, which Shelton failed. Further investigation by a Drug Recognition Expert revealed that Shelton was under the influence of a controlled substance.
During the investigation, Trooper McKinney placed Shelton under arrest and subsequently searched the Kia. During the search, Trooper McKinney located just over 18 grams of suspected Methamphetamine and prescription pills inside the Kia.
Trooper McKinney transported Shelton to a Lafayette area hospital for a certified test, which he refused. Trooper McKinney was granted a search warrant and obtained the certified test. The results of that test are pending. Trooper McKinney transported Shelton to the Tippecanoe County Jail.
Arrested and preliminary charges:
– Ethan Shelton, 23, from Frankfort
Dealing Methamphetamine – Level 2 Felony

Possession of Methamphetamine – Level 4 Felony

Identity Deception – Level 6 Felony

False Identity Statement – Class A Misdemeanor

Operating a Vehicle Without Ever Obtaining a Driver's License – Class C Misdemeanor

Operating a Vehicle While Intoxicated – Class C Misdemeanor
– Charges listed on his warrant for arrest out of Clinton County:
Criminal Mischief Damage is Between $750 – $50,000 – Class A Misdemeanor

Criminal Mischief – Class B Misdemeanor

Battery – Class B Misdemeanor