Fred K Agnew, 88, of Frankfort, died March 28, 2021 at Wesley Manor, Frankfort, Ind.  He was born July 26, 1932 in Frankfort, Indiana to Carl and Elizabeth (Kelley) Agnew.  He married Ann Alter on June 13, 1954 in Frankfort, Indiana and she preceded him in death on November 4, 2018
Fred was a 1950 graduate of Frankfort High School, a 1954 graduate of Indiana University and a graduate of the School of Banking at the University of Wisconsin. He was a veteran of the U.S. Air Force serving from 1954 – 1956. Mr. Agnew was the former Presi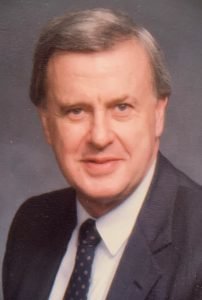 dent and Chairman of the Board of The Farmers Bank, Frankfort, Indiana. Prior to becoming associated with The Farmers Bank, Fred worked in sales with The Ingram Richardson Company in Frankfort.   He was a member of Phi Kappa Psi fraternity at I.U. and formerly attended the First Evangelical Presbyterian Church. Mr. Agnew was an avid golfer, fisherman and member of the Frankfort Symposiarchs and Frankfort Rotary Club.
He is survived by a son, Charles (Donna) Agnew of West Lafayette, IN and a daughter, Nancy (Neal) Harper of Carrollton, Texas, and 4 grandchildren-Carl & Clay Agnew of West Lafayette, IN & Matt & BethAnn Harper of Carrollton, TX, also 2 great grandchildren survive.
In addition to his parents and his wife, he was preceded in death by an infant daughter, Kathryn Ann Agnew and a sister Judy Stephic.
No Services are planned at this time.  Goodwin Funeral Home, 200 S. Main St., Frankfort is entrusted with arrangements.   If you feel so inclined, please make a memorial donation to the charity of your choice.  Online condolences may be left at goodwinfuneralhome.com