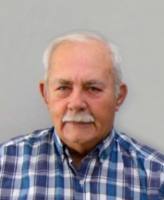 Gerald "Jerry" L. Jacks, 74, of Frankfort, passed away on Tuesday, August 24, 2021, at IU Health University Hospital in Indianapolis. He was born in Frankfort, on September 4, 1946, to Francis C. and Violet V. (Cast) Jacks. He married Betty J. Brock on February 14, 1970.
Survivors include his loving wife of 51 years, Betty; his daughters, Teressa R. "Tess" Grindle (Mark) of Terre Haute and Dusti M. Jacks of Frankfort; brother, Brad E. Jacks (Judy) of Frankfort; sister, Janet D. Knox (Rick) of Frankfort; and grandson, Carter Gerald Jacks.
Jerry graduated from Frankfort Senior High School in 1965 and was in the National Guard for 8 years. He worked for Chrysler for 30 years, where co-workers knew him as "JJ", and retired in 1996. During his retirement, he worked part-time for Advance Auto for several years.
He was a family man who loved being "Pap" to his grandson, Carter. He also loved playing cards with this family and friends.
He is preceded in death by his parents and his sister, Carolyn S. Shaw.
Visitation will be held from 1:00 p.m. until the start of the funeral service at 4:00 p.m. on Sunday, August 29, 2021, at Genda Funeral Home in Frankfort with Pastor Paul Whitaker officiating.
Memorial contributions may be made in Jerry's honor to St. Jude Children's Hospital, 501 St. Jude Place, Memphis, TN 38105-1942.
Online condolences may be directed to www.gendafuneralhome.com.