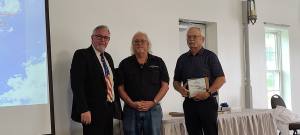 The Clinton Central School Board officially accepted the resignation of George Gilbert as head football coach and history teacher.
"George is going to be missed and we hope he stops by and see us from time to time," said Superintendent Jeremy Fewell. "He's going to spend some time with his family which is much needed."
Gilbert was about to start his 40th year in coaching having compiled a record of 230-196, including a mark of 121-101 in his 22 years at Central. Gilbert had several other stops in coaching career, including the 2013 team at Tri-Central, which won the Class A state championship with a 20-10 victory over Eastern Hancock.
Replacing Gilbert on the field will be Tracy Roda, who will take over on an interim basis.
"Tracy is a great guy," said Fewell. "He's been around the game of football for a long time. He's retired from work so he's had a lot of time to really invest with the kids."
Central kicks off the season on Friday, August 19, on the road against Frankfort.