Friday from 11:00 to 1:00 Good To Go convenience store on South Jackson Street in Clinton County holds an Open House and celebration of a 7 million dollar commitment to invest in Clinton County plus a successful community wide "Round Up" fundraiser campaign toward a Fire Fighting training facility at the Clinton County Fairgrounds.
Good To Go Friday will donate $15,000 toward the planned Fire Department Training Center to be located on the Clinton County Fairgrounds area near the new EMS building. The $7,000,000 I-65 investment will be a complete reconstruction of the I-65/28 Good To Go facility at the busiest intersection in Clinton County.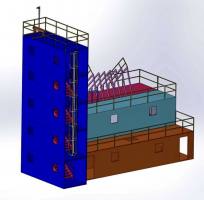 Good To Go will host a WILO AM/FM Remote and Shine 99 Remote Broadcast from 11:00 AM to 1:00 PM Friday June 11 at the South Jackson Street Good To Go location.
Join community leaders, Shine 99's Cindy Loveless, WILO's Kevin Keith and the Good To Go leadership team. Listen for special radio offers from Good To Go during the LIVE broadcast. Kaspar Media will give away Indiana Beach Tickets, Holiday World and African Safari Tickets to lucky winners who know the "Phrase that Pays" ("Shine 99 is my number one for music and fun!")
Good to Go has served Indiana for 80 years and now has three Clinton County locations. Good to Go stores in Clinton County are also located on on South Columbia and West Walnut across from the First Christian Church and the new $7,000,000 facility soon to be renovated at I-65 and 28.