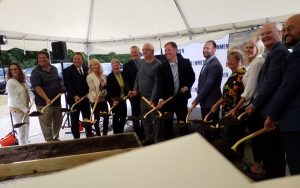 What is believed to be the largest residential investment ever in Carroll County's history, ground was broken Tuesday on the $12.5 million Interurban Apartments, a 68-unit complex located in a picturesque valley surrounded by lush trees.
Delphi Mayor Anita Werling said this is something that they have been wanting for quite some time.
"I'm just amazed at the number of people that turned out for this," said Werling. "A lot of them are partners who have worked with us along the way, community leaders that are here to celebrate with us and what this is going to mean to Delphi in the future."
One hundred years ago, this was a transportation center, connecting Delphi to hundreds of big and small towns in Indiana, with electrically powered railcars on 1.825 miles of dedicated track. By 1907, a dedicated interurban line between Logansport and Lafayette was completed, included a passenger and freight depot on the banks of Deer Creek, two blocks south of the county courthouse.
But, paving of roads and highways in Indiana spelled the end of the Indiana Interurban Railroad system. The power was turned off in May 1932, at the height of the Great Depression, and the Lafayette to Fort Wayne line was dismantled.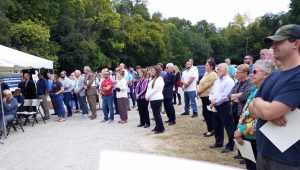 "Delphi's a smaller community for sure," said Iron Man Properties Co-Founder and the Head of Building and Development Joe Blake. "It hasn't seen any major housing development in a long time. So, to be able to do a project like this in Delphi with all the cooperation of local officials, the state officials, is truly special because it shows what can be done in a smaller community."
Blake and Iron Man Properties were the ones who built Nickel Plate Flats in downtown Frankfort. In fact, it's one of four such complexes they have constructed with the others being in Lafayette, Lebanon and Crawfordsville.
Local officials said that development in this part of the state was a big part of how they were able to collaborate with Iron Man.
"You look at the communities and the types of projects they've done," said Werling, "Nickel Plate in Frankfort was done in the historic downtown. Not only were they taking a chance in their historic district but seeing what needed to come along with it."
Blake compared to this project with Frankfort.
"The project we did in Frankfort was 74 units right on the Courthouse Square," said Blake. "This is 68 units just about a block or so off the Courthouse Square here. It's very much in keeping with our philosophy of developing in county seats in their downtown to revitalize downtown."
Community Development Director for the City of Delphi JT Doane concurred about how big a day this was.
"It's a moment for Delphi," said Doane. "It's a moment of collaboration within a community where leaders come together. In this case, we all came together with Iron Man Properties, we knew the mission and there was a lot of team work. But again, this is the moment. This is excitement."
Blake said they hope to start leasing the apartments next year at this time and hopefully by Thanksgiving of 2024 some apartments will be occupied.