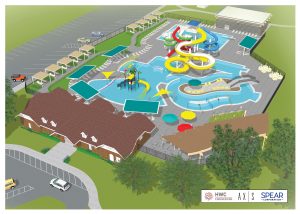 The long-awaited, much anticipated groundbreaking for the new aquatic center took place Friday afternoon on the site of the former pool at TPA Park.
"Our new aquatic center will be state of the art," said Friday Mayor Judy Sheets. "Environmentally friendly and an awesome facility for all. Twenty-five years from now, the aquatic center will remain special in our community. It will be a place for family and friends to come together. This will be a tremendous addition to our city."
The cost of the new $10.8 million facility was a little higher than city officials expected, according to Sheets, who said they hoping to have it open by Memorial Day or by the end of June next year.
"It's going to depend on getting materials and labor and what they run into. You never know with construction," said Sheets. "I think the community has just been waiting for this. We've been wanting these things, these amenities for people to enjoy. I think this is going to be a very successful venture for us."
Parks Superintendent Bart Kraning will oversee the project. He was asked what he thinks will be popular about the new pool.
"I think the lazy river is going to be very popular," said Kraning. "I think people are going to be very happy that they will have their own rentable space where they can rent that space all day long. There's going to be spots from little kids and toddlers up to adults. I think that's pretty unique."
The city has been without a pool since the old one closed at least three years ago.
"I know people have been disappointed," said Sheets. "They've wanted a pool. They've wanted something for the kids to do, adults as well. I think they are going to be amazed when they see this aquatic center."
Sheets thanked everyone that has been involved with getting his project going. They include the Frankfort City Council, Board of Works, City Attorney, Frankfort Redevelopment Commission, Kraning, Clinton County Community Foundation, HWC, Envoy, Reedy and Barnes and Thornburg.